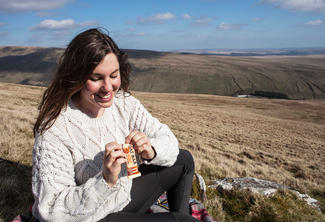 Last updated
April 3, 2019
My job is a bit of a complicated one to explain! 
I usually just say I'm a freelance outdoors and travel writer, but I also work as the editor of two annual magazines, run my own blog "The Girl Outdoors", write and take photos for magazines, newspapers and brands and even do bits of presenting. The very best bit of my job, of course, is getting to adventure around the world to write about active travel. 
My working day varies a lot, which is why I decided to go freelance in the first place – I love the variety. About one week in four I'm away travelling, and the rest of the time I'm working in Britain, in my magazine's office, my home office or doing photo shoots in the UK. Often if I'm not travelling, I'll be preparing for it – as I write this, I'm packing for a week in Japan followed straight afterwards by a week in Arctic Sweden with 10 hours in between! 
When I'm travelling, my daily routine is all about exploring a new place, taking notes and photos and creating content for my blog or for a magazine commission. It's what I truly love, but it's also extremely tiring, and it can be hard to eat well and keep fit whilst I'm away. I'm always happy to come home to a more relaxed routine and a week or two of writing. 
Back in Britain, I spend two days a week in a farm office in the Cotswolds as the editor of Active Traveller and Snow Magazine.  On magazine days, I get up at 8am, have breakfast (usually just muesli and coffee) drive to our office and edit magazine pages or commission writers for the day. The best bit about working on a farm is that I can go for a walk at lunchtime or sit with a coffee in the sunshine with the farm's two labradors – best therapy ever. 
The rest of the week, I'm freelancing and I work from home. I usually get up at 8.30 and work in the office room I share with my boyfriend. It's full of travel photos and books, so it's a nice space to work in. I find I work best in the morning, so I'll usually get the bulk of my work done then. We've got a lovely little garden and I take regular breaks to go outside – weeding is a surprisingly zen break from screen time! Or I'll just sit with coffee and watch the garden birds. I'll usually go for a 6km run around Bristol Harbour at lunchtime, or cycle down the road to Trika Yoga studio for a hatha or vinyasa class, which is a brilliant way to relax and stop my head whirring with deadlines and to-do lists. 
I used to be the queen of eating junk food between meals but after a recent injury I started eating much better as I couldn't run all the rubbish off! I'm now back at the gym and slowly getting back to running and cycling but I'm still eating better, and also trying to cut down on alcohol and caffeine. Lunch is usually something like soup maybe with some oatcakes on the side, and I'll snack on bars such as the new Nairn's Oat Bar range and plenty of fruit throughout the day. Nairn's new Coconut & Chia biscuits or their Fruit & Seed Oatcakes are great with a with a cup of coffee. 
And at least once a week I'll usually be out in the countryside researching or taking photos for an article. Yesterday I got up early, packed up the Volvo and headed for the Brecon Beacons to shoot some images of a hike. Even if I don't have a specific article or blog post I need to write, I love making time to get outside - the biggest benefit to life as an outdoors writer is that going for a hike or a wild camping trip is all in the name of research. The reason I went freelance is because I hated sitting indoors on a computer – I may still regularly do that, but now I can plan my own diary with lots of time in the fresh air. 
I usually finish work around 6pm. Dinner usually consists of something like pasta, fish cakes or a big salad – my boyfriend Jake and I take it in turns to cook but he is definitely a better cook than me!  In the evenings, if it's chilly, my favourite thing to do is light a fire in our sitting room and have a glass of wine. I love Anthony Bourdain's travel and food documentary Parts Unknown on Netflix, or I'll read a book – I have a neverending stack of books by my bed. Bedtime is usually 11pm.