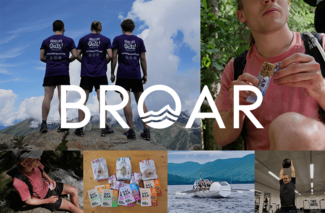 Last updated
July 1, 2019
The eagle-eyed amongst our readers will have noticed that lately, we've been talking a lot about how great oats are to help boost your energy levels. So, when we first heard about Lachlan, Jamie and Ewan's plans to become world record breakers as the first three brothers to successfully row any ocean… well, we were intrigued to say the least.
Collectively known as 'BROAR' and from our home city of Edinburgh, the engineer, the philosopher and the architect plan to set sail across the Atlantic from La Gomera to Antigua. If that doesn't qualify for grabbing life by the oats then we're not sure what does! The punishing 3,000 mile row will see them spend 40-60 days at sea in which they'll battle through 40ft waves and shark infested waters – the physical and mental challenge of a lifetime, basically!
It's all for a good cause too. The boys are hoping to raise a whopping £250k for their chosen charities: 

- Children 1st, (Scotland's national children's charity who exist to protect children, prevent abuse and neglect and keep children safe from harm) 
-  Feedback Madagascar, a charity that works with some of the island's poorest communities in order to improve their environment and quality of life. You can find out all about them here:
https://www.children1st.org.uk/
https://www.feedbackmadagascar.net/
By their own admission Team BROAR are "always looking for new ways to scare mum and dad", and the boys' excitement for the challenge comes naturally. They say: "We're delighted that Nairn's are able to help us on our mission. We are certainly seeking to 'grab life by the oats' and break this record! We'll certainly be depending on some of the functional energy-giving benefits of oats to see us to the finish line, and it helps that Nairn's have an amazing selection of products for us to choose from (especially the new Oat Bars)…"
BROAR begin their row towards the end of 2019, but their challenge has already started. Stay tuned for exclusive content from them on their journey to become the first three brothers to row across any ocean. In the meantime, you can read more about them on their website and social channels….
https://www.facebook.com/themacleanbrothers/
@broaratlantic