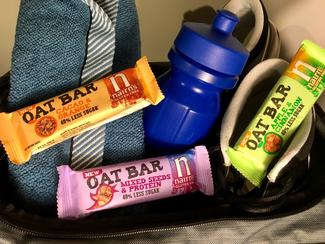 Last updated
April 2, 2019
Guest Blogger, Coeliac man joins us as part of our Grab life by the oats campaign, to talk about how he manages fatigue and finding the right kind of energy. 
While most people know that coeliac disease can cause sufferers to have a bit of a 'funny tummy' if they eat gluten, there's a whole host of other symptoms which can perhaps go unnoticed. 

Fatigue is one such symptom and one that I struggle with on a daily basis. Like many right-minded people, I wake up most mornings wanting to Hulk smash my alarm clock and contemplate a range of creative ways I could avoid getting up and going to work. Unlike a lot of people though, I can never seem to get enough sleep and I'm usually in various states of tiredness. 

It's thought that people with coeliac disease are more prone to suffer fatigue as our intestines are a bit broken and struggle to absorb vital nutrients from food. This theory certainly rings true for me as a blood test a few years ago revealed that, like many diagnosed coeliacs, I'm a bit deficient in vitamin D.

Fatigue can also make an unwelcome appearance if you've suffered the dreaded 'glutening'. On the occasions when I've inadvertently eaten gluten (and once the vomiting has subsided), I always feel completely wiped out for days after. On these occasions there's not really much I can do apart from park myself on the sofa, drink peppermint tea and wait for the whole thing to blow over. 

Thankfully though, for the general every day fatigue that having coeliac disease can cause, there are lots of tactics you can try to get energised! 

I always start the day with a vitamin D tablet before devouring my favourite breakfast. This consists of a massive bowl of cereal, fruit, yoghurt and my homemade granola using Nairn's Gluten Free Scottish Porridge Oats. Oats are great for gut health thanks to being high in fibre and a really useful natural source of slow release energy, which makes them a great shout at breakfast time. 

I like to make my own granola.  Simply tip oats, almonds, pecan nuts and sultanas into a large mixing bowl. Then, melt down some peanut butter, coconut oil and maple syrup in a pan before pouring over the dry mixture. Give it a good old mix until it's fully coated, then bang in the oven for around 20 minutes. Job done! 

I honestly couldn't function without my breakfast and I'm a fully signed up believer in it being the most important meal of the day. After I've demolished breakfast and downed a cup of tea I'm generally feeling slightly more perky and ready to face the world. 

I always take snacks with me whether I'm going to work or on a day out, and one of my absolute favourites is the range of Nairn's Gluten Free Biscuit Breaks. I've loved these ever since they came out and there are six flavours now. They're super tasty, super handy, and give me a nice little mid-morning energy boost. Eating regularly is a great tactic for me to keep the energy levels topped up. As the old saying goes, 'you wouldn't like me when I'm hangry', so regular snacks are a must! 

One of the great things about Nairn's Biscuit Breaks is that they contain between 30-45% less sugar than the average sweet gluten free biscuit. If, like me, you have coeliac disease and a massive sweet tooth, then this will come as welcome news! Free from products can be very sugary so a sweet biscuit that not only gives me an energy hit, tastes great and satisfies my sweet cravings, but also isn't likely to destroy my teeth is a sure fire winner. 

Another tactic I use to give my energy levels a boost is exercise. I'm a firm believer in the positive power of exercise and hit the gym a couple of times a week, along with walking to work each day. The great thing about exercise is that not only can it leave you feeling more energised, but can also have a positive impact on your mental health too. 

But perhaps the best thing about exercising is that you can totally have another snack once you're done! It would be a great shame to waste all the good work by failing to keep fuelled up so I recommend keeping a few Nairn's Oat Bars in your gym bag to satisfy those post-workout munchies. The mixed seeds and protein flavour in particular makes the perfect gym snack thanks to giving you a 5.4g protein hit, and the cacao and orange flavour tastes amazing!
Thanks for reading my whistle stop tour of how I manage fatigue with a little help from Nairn's! Have you got any top energy tips that you swear by? 
Coeliac Man out x