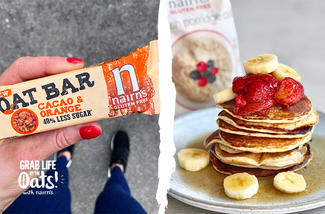 Last updated
April 8, 2019
We hear from instagrammer Joanna Lowy about the importance of diet and attitude towards running a marathon... or two. We salute you Joanna.
In 2014 I ran the London Marathon for the very first time and I clearly remember saying to myself, as I crossed the finishing line 'I will never, ever do this again.' Five years later, here I am getting ready to run those 26.4 miles again!
Preparing for your first marathon can be quite overwhelming – how far should I run? How often should I run? Is this a good excuse to buy new trainers? You can get so focused on miles, time, splits, distances and those brand new Adidas Ultra Boosts, that the most important question gets forgotten: what should I eat?
Five years ago, that was me. It was all very new. I had never done anything like this before. Running to the end of my road was an accomplishment. And then, all of a sudden I was running and running and running (in my brand new swanky trainers) much further than the end of the road, with very little knowledge or care of what I was feeding my body.
Looking back now, I can see exactly why, from start to finish, my first experience was less than enjoyable. I simply had no energy. I felt constantly fatigued, I was injury prone, I had low motivation and declining performance.
I'm by no means a nutrition expert – in fact I'm a full-time motion graphics animator – but what I now know is this: your body is a vehicle, and before you set off on a long journey you make sure you have enough fuel in the tank to get you where you're going. If you're going to run a marathon, you have to fill your tank with enough energy – and the right energy – to get you over the finish line.
When you commit to running 26.4 miles things change. It's physically and mentally demanding. Your body is working overtime for you, and all the training required to cover that distance is easily undermined if you don't give your body the fuel it needs – so it is crucial to make sure you are treating it right and thanking it properly. 
Give it plenty of nutritious foods so you can function at your best, perform, grow, become stronger, and most importantly keep your energy levels up where they need to be to complete those miles.

The notorious 'long weekend runs' work up to distances of 18–20 miles. When training sessions become harder and longer they need fuelling appropriately. Your nutrition and hydration during the days leading up to your long run are so important to your performance and comfort.
Carbohydrates are the body's major fuel source and a crucial element of a distance runner's diet. When digested, carbohydrates are stored as glycogen and this is your body's most easily accessible form of energy. Two to three days before a long run, it is important to start carb-loading to allow glycogen to accumulate in your muscles, helping you to run your best. 
"In training, eating enough carbohydrates every day will allow you to train harder, better absorb the stress of your training, and perform better in important workouts than you would without adequate carbohydrate intake."
– Matt Fitzgerald, The New Rules of Marathon and Half-Marathon Nutrition
The morning of the long run, your body's 'fuel tank' should be almost full from carb-loading, so think of breakfast as topping it up to make sure it is full before you set off. That last bit of energy will help to see you through.
A high-carb, high-protein and low-fat meal two hours before you set off is ideal. Oats are my go-to carbohydrate for breakfast on long run days. As well as being absolutely delicious and full of goodness, oats release their energy steadily, which is exactly what your body needs on those long distance runs. Nairn's Gluten Free Scottish Porridge Oats contain wholegrain oats and nothing else so they're naturally rich in minerals and vitamins, especially vitamins B and E, iron and magnesium. In my opinion, you simply cannot beat a nice warm bowl of porridge topped with sliced banana and honey. Alternatively, you can mix oats with a scoop of protein powder, cover with milk and leave in the fridge overnight. In the morning, top with sliced banana and a drizzle of nut butter for another delicious pre-run meal. But if, like me, you have a soft spot for a stack of pancakes I have got the perfect pre-run recipe for you; my vanilla banana and strawberry pancakes.
It is just as important to refuel after a long run too. Those glycogen stores will have depleted, meaning you need to replenish them so you have enough energy when the time comes to run again (and again, and again, and...). It can be difficult to cook a post-run meal straight away, but Nairn's new Oat Bars are so great to have to hand as an immediate carbohydrate top-up source. These bars are also made from gluten-free wholegrain oats, contain nothing nasty or artificial, and have 40% less sugar than the average cereal/fruit/flapjack bar. During the week they are an ideal pre-short run snack, providing the perfect energy boost to get you on your way.
Food is our energy and it is so important. I have truly learnt the importance of food in all aspects of training. Whether you are running a marathon or running 5km, HIIT-ing or weight lifting, spinning or swimming, keep your body fuelled. Keep it happy and keep it healthy, because it is amazing what an energised body can achieve.