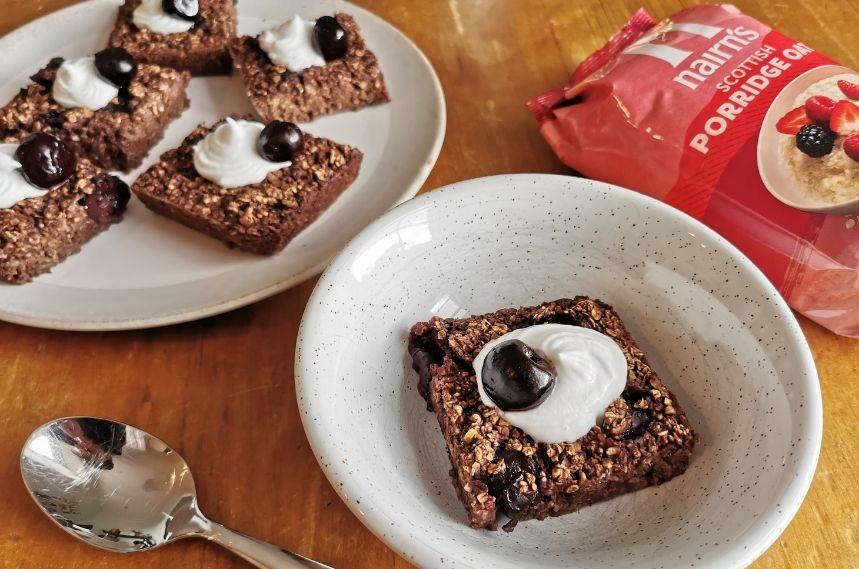 Black Forest Baked Oats
Overview
Delicious warm from the oven or ready-sliced in the
fridge (they also freeze well) - a dish of baked oats might just be your new morning life
saver!
Ingredients
300g Nairn's Scottish Porridge Oats
1/2 tsp sea salt
1 tsp baking powder
1 tbsp cocoa powder
500ml milk or milk alternative (coconut works well)
1 tsp vanilla extract
12 -15 frozen cherries (you can chop them up or leave them whole)
2 tbsp maple syrup (plus extra to serve)
COCONUT WHIPPED CREAM
1 can coconut milk , chilled
1 tsp vanilla
2 tbsp icing sugar
Instructions
Preheat oven to 200 C / 180 C Fan. Grease baking tray/dish.

In a bowl, mix the Nairn's Porridge Oats, salt, baking powder, cocoa powder.

Add the milk, vanilla, maple syrup and cherries and mix again.

Pour mixture into your baking dish, evenly filling it. Bake for 30 minutes, or until the middle has set and a knife comes out clean.

Whilst the baked oats cool you can make the coconut whipped cream. Scoop the set coconut milk from the can, it should have separated from the oil underneath whilst it chilled. Add to a bowl, the add the icing sugar and vanilla and whisk until stiff peaks form.

You can top your Black Forest Baked Oats with some of the coconut whipped cream, some fresh (or thawed) cherries and a drizzle of maple syrup…enjoy

This will keep in the fridge for 4 days in an airtight container. You can cover and reheat in the oven for 20 minutes at 190 C / 170 C Fan, or 1 min, 30 secs in the microwave. The coconut whipped cream will keep for up to 4 days too, but may need re-whipped before serving again.