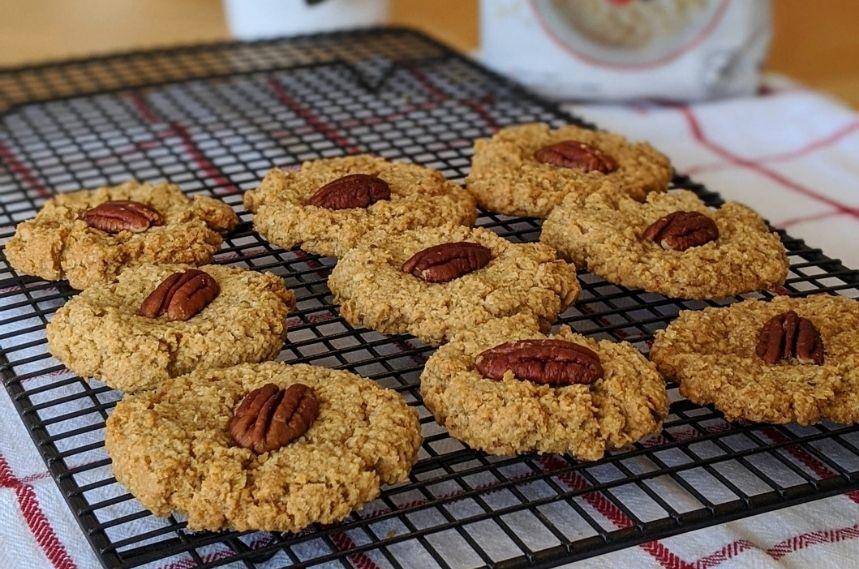 Pecan and Butterscotch Oat Flour Cookies
Overview
We asked gluten free blogger David AKA Coeliac Man to use our Scottish Porridge Oats to make oat flour - and he came up with these oaty pecan and butterscotch cookies! You can find David on Instagram or over at https://coeliacman.com/ 
Ingredients
175g Nairn's gluten free Scottish porridge oats
2 tsp gluten free baking powder
100g margarine
100g light brown soft sugar
1tbsp golden syrup
Pecan nuts to decorate
Instructions
1. Preheat the oven to 160 degrees celsius (fan) and grease two large baking trays.
2. Pop the gluten free oats into a blender and pulse until they're ground into a flour-like consistency.
3. Place the margarine, sugar and golden syrup in a bowl and beat until combined.
4. Fold in the flour and baking powder then use your fingers to work the dough until it's all combined.
5. Divide the dough into golf ball sized balls (there should be enough for 12-15), place on the baking try and lightly press down. Pop a pecan on top of each one.
6. Bake for about 15 minutes or until golden brown then remove from the oven and set aside to cool. Enjoy with a cuppa!