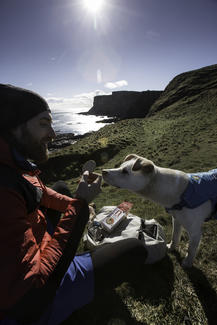 As a mountaineer, l am a firm believer in getting active and staying active.
The outdoors are so important for our wellbeing. It not only brings physical health benefits, but can help you push through mental barriers or maybe help give you that extra focus. It's also a great way of alleviating stress and frustration. l get a lot of my creative flow and inspiration from being in the mountains because I love to hike and climb. Being able to scale a mountain is a blessing – our bodies can do remarkable things that allow us to break through any physical and mental boundaries that we create in our head.
Scotland doesn't have the largest of mountains but that's OK.  There's plenty to make up for it - an abundance of stunning mountains of various heights, as well as awe-inspiring landscapes, ancient sites and archaeological features, and stunning Hebridean beaches that look like something from the Caribbean!  And not to mention that our fresh Scottish local produce (and whisky!) is amongst the best in the world…..
A simple drive up North to visit one of the national parks is nothing short of amazing and will have you wanting to stop off at every passing point on the way. Scotland really doesn't disappoint.  l can happily say no matter where I visit, I'm always pulled back here.
l'm really happy to be working with Nairn's. Scotland is famous for porridge oats for good reason and having a healthy balanced diet rich in wholegrains is very important to me. A balanced diet makes whatever life throws at you easier to tackle, especially if it involves physically demanding activity. Oats are a bit of a superfood that can help control your blood sugar levels, lower your cholesterol, and are easy to digest, as well as helping you feel fuller for longer – and that's just for starters!
The most simple advice I could give anyone who wants to start living an active life and 'grab life by the oats' is to research the food you eat. As your body really is your temple, treat it like one. Eat healthily and be conscious of what you are eating and think about how good it is for you in the long run. I would also recommend walking more or just getting outside, and making sure you drink enough water - getting the basics right.
When it comes to my own diet for a long day of adventuring, something easy to digest with plenty of slow release energy is key – you want to avoid a rollercoaster of energy spikes and crashes. When I'm in the mountains, simple snacks are extremely important, especially those I can open fast in emergency situations. I always carry with me fruit, nuts, Nairn's Oat Bars, Nairn's Oatcakes with banana, cheese or peanut butter, protein yoghurt and some dark chocolate.
Hunger affects our processing ability, both mentally and physically. When l've been in extreme weather conditions or when fear has kicked in during a climb and I really need to focus, having the right snack at the right time has always helped me keep my stamina and composure to get through the task or challenge successfully. When it's been a long day on the mountain and I'm tired or cold, us climbers totally understand which snacks will do the right job from a fuel perspective.
l often find myself in cold parts of the world and for those not familiar with that environment, it's easy to underestimate how the cold affects blood sugar and energy levels. Even if it's a warm day and the sun is shining at sea level, when you're 4000m up a mountain, you could be getting blasted in the face with snow and ice from 100 mph winds with mega wind chills! Even with all the fancy thermal gear I have on, if l'm not on the move, l get cold and movement means that you're burning energy. It's a vicious circle, so you can see why a balanced diet is key when you can't stop for long…..
Even when I'm not on the mountains, climbing or hiking, I am always active. l run around 100km a month, work out three to four times a week and do other activities to make sure I'm working my body in different areas and not just climbing.  I have to think about good nutrition and how to get the energy I need whilst also being aware of how it will affect my digestive system, and how my body will handle food (especially up a mountain!). What I call 'clean digesting' is vital – this is when my body digests something that helps me feel nourished, rather than sluggish.  l'm very conscious of this and it's why I always have oats for breakfast in the morning. l feel nourished rather than full, it helps the digestive process and it fuels me for the way I live my daily active life.
Healthy eating is a long term gamechanger that will help fuel my adventures for years to come.  To me, good nutrition promotes better thought-processing as well as more obvious mental and physical positives. When l'm not enjoying my porridge oats or Nairn's snacks on the mountains, another staple in my diet is lots of vegetables - in particular raw spinach, lettuce, peppers and tomatoes. It's not always easy making changes to your diet or trying to get your body to adjust to something new. It takes time to listen to your body and to work out what is right for you and your lifestyle. But it does have massive benefits, and just like getting some fresh air, the small changes you make to what you eat can minimise tiredness, sluggishness, increase mental concentration and benefit your digestive system.
If I was to offer just one piece of advice from all of this, it would be that making small changes to diet and exercise will enhance your daily functioning and help you feel healthier. And it can only get better.  Even if you start by making changes to your breakfast routine and what you snack on throughout the day, the effect might just be bigger than you realise. Take a leaf out of my book and try adding some oats to your diet and see if you notice the difference. I recommend starting your day with porridge (or overnight oats if you're eating on the go) and swapping some of your current snacks for Nairn's Oatcakes, Nairn's Oat Bars or, for a treat, the Nairn's range of sweet biscuits which are much lower in sugar than the average. Grab life by the oats!