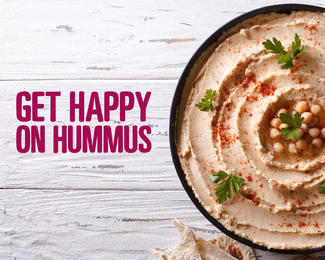 Last updated
May 14, 2020
As most of our followers on social media will know, we absolutely love a bit of feel-good-food.
Hummus, of course, is a shining example of exactly that. We love how snackable and simple a fresh bowl of this delicious Middle-Eastern delicacy is… especially when you combine it with our oatcakes!
Yep, you'll pretty much always find hummus in our office fridge for that very reason. Like the humble oatcake, it's a versatile ingredient to have around. More on that later... 
Do the dip
Chopping up a fresh, crisp selection of celery, cucumber, peppers and carrot sticks to dip into your choice of hummus is a classic snacking choice for a reason.
Healthy? Yes. Easy? Of course. Tasty? That too. Oatcakes, as we mentioned, make just as great a dipping partner.
Our Pop Oats are just as good (and only 83 calories per bag!)... not to mention our range of Snackers or flatbreads too!
Or for something more 'civilized' why not use hummus as a base layer for your hummus and oatcake canapes?
Juicy red pepper strips or cucumber slices are a must if you're trying this one out!
Home-made hummus happiness
For something so tasty, you'd be forgiven for thinking you need to go to cookery classes to learn how to make hummus. In fact, that's yet another great thing about it – all you need are a few readily available ingredients and you're good to get dipping, spreading… whatever takes your fancy!
For a share-sized portion of classic hummus just grab the following:
One 400g can of chickpeas
Two tablespoons of olive oil
Three tablespoons of tahini paste
One crushed clove of garlic (or two if you like it especially garlicky)
Two tablespoons of lemon juice
Now comes the tricky part. Just kidding - all you need to do is drain the chickpeas, throw everything into a food processor and whizz it up until it's at the consistency you like.
Oh, and if it's too thick for even the sturdiest oatcake to handle, simply add a small drop of water, whizz in your food processor, and repeat until it's just as you like it.
If you're feeling fancy, you can sprinkle some chopped parsley, grated lemon zest or paprika over the top with a little swirl of olive oil.
Mix it up
Of course there are many other styles of hummus that are just as easy to whip up. Naturally, we've already got a few recipe ideas to try! 
Sun-dried tomato
Love a bit of tangy, flavoursome sun-dried tomato in your hummus?
No problem, just grab your tomatoes, some fresh basil, a pack of our Rough oatcakes and a few other bits and pieces and you're good to go with this easy recipe.
Beetroot
Or perhaps you've got a taste for something slightly more sophisticated and super colourful?
If so, this striking beetroot and flax hummus is perfect for you!
Caramelised onion
Of course, you can't argue with a classic like caramelised onion hummus!
A generous dollop on top of a crunchy oatcake might just be your new snack-time saviour! 
Swap chickpeas for edamame beans
And finally, for something deliciously different you can substitute the traditional chickpeas for shelled edamame beans.
Rich in protein and flavour, we just use the 'homemade' recipe above and throw in a bit of chopped coriander and cayenne pepper as well. Get the full recipe details here.
Good for you, full of flavour and so very versatile… oats and hummus certainly have a few positive traits in common! Maybe that's why we're such big fans.
So, if you're up for trying to impress your friends and family with a new found love for rustling up the BEST homemade hummus, don't forget to tag us in your pics on the usual social channels – we promise not to get food envy.
OK, we'll TRY not to get food envy.