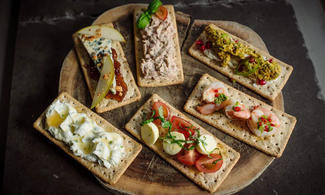 Last updated
May 14, 2020
For lots of people, a house without a decent loaf of wheat-based bread would be an unthinkable thing. It's an easy go-to option for morning toast or a quick sandwich for lunch. Convenient as it is, if you rely on bread for energy you might feel that those few slices, in whatever form, are followed by an inevitable energy slump. Luckily, there's a whole world of alternatives out there that are just as convenient, but have the power to help transform your routine. And even better, these often-healthier substitutes could do wonders for your wellbeing.
Uncomplicated bread alternatives
Most people agree that the upside to swapping starchy sugary white bread for a wholesome wholegrain (or other) alternative is huge – we'll delve into those precious benefits later. But what are your options and where do you start? Here is our run down of some simple ways to bring more good into your food – if any catch your eye, keep scrolling for more info.
Oatcakes 
Wholegrain Crackers
Flatbreads
Lettuce leaves
Cabbage leaves
Collard leaves
Oat pancakes
Karelian pastries
Almond bread
Cauliflower bread
Wholegrain Oats
Let's start with the basics. Oats may seem unassuming, but don't let that fool you. They're a superfood giant and so easy to slip into your everyday routine. With such a simple, yet mighty ingredient, our Oatcakes, Wholegrain Crackers and Flatbreads all make fantastic substitutes that will make you completely forget about white-flour.
Did you know that much of our range is certified gluten free too? That means we test to ELISA standards – the crossed grain logo shows that they're safe for those that need to avoid gluten for medical or lifestyle reasons.
Oatcakes & wholegrain crackers
Here's a way to take 'finger food' to a whole new level. Made with Scottish oats, these easy-to-grab alternatives are a fuss-free way to hit your recommended daily 30g intake of fibre. Although fibre is not digested by our bodies, it does help keep our gut healthy – you'd be surprised how better you feel with a happy gut. Not only that but these products are also rich in vitamins and minerals (magnesium, iron, vitamins B and E) and are incredibly versatile in the kitchen too.
This is especially true when you consider there are so many different textures (rough, fine-milled, seeded) and flavours (everything from cheese to fruit and seed) to tickle your tastebuds and spark some kitchen creativity. Your topping options are endless, from your favourite spread, fresh veg or a slice of cheese and dollop of chutney – the list goes on. Whatever way you have yours, you'll feel all set for the day ahead as they're packed full of naturally occurring nutrients (including manganese & phosphorous) that give you a nice slow release of energy to keep you going.
Flatbreads
Although they're still packed full of wholegrain oats, there are a few ways that our flatbreads differ from our oatcakes. For starters, they give you even more space for your chosen toppings – that's a big win in our book!
When it comes to texture, they're a little lighter and morecrisp than their round oatcake cousins. But don't be fooled, there's plenty to keep you satisfied with a few of these on your plate. If you're bored of salads or soup, a Flatbread or two on the side can liven them up. And they're so simple to prepare that even the busiest of people can easily squeeze them into their day.
Oats are multitalented
Looking for something different? Oats have a lot of potential, especially when it comes to savoury baking. You may not think that oats and savoury go hand in hand, but their subtle taste and texture can bring out the best of flavours like onions, garlic, herbs and spices. Of course, they'll also add fibre and a good source of protein to your dishes. That's why they're becoming a go-to in many vegan diets.
Oats can also star in savoury crumbles, stuffing, baked oats recipes and savoury muffins as a great gluten free breadcrumb substitute.
Homemade bread always trumps store-bought, and you can even use oats to jazz up your bakery creations. With oats stirred into the dough or sprinkled on top with some seeds, you'll be adding the extra goodness of wholegrains into your loaf, and your diet.
If you're feeling inspired to add some oats into your meals, check out the ultimate guide to baking with oats.
Veggie wrap superstars
Lettuce wraps
If wrapping is your thing, a crisp, fresh leaf of lettuce works perfectly for that coronation chicken or tuna mayo you've got in the fridge. Just snap the stem of a nice head of romaine lettuce, add your favourite ingredients and roll it up as you would a normal wrap – it really is that easy.
Cabbage wrap
Cabbage leaves work just as well, and anyone into their gut health will know that it's a fantastic food to keep things healthy. Not to forget collard leaves!
We're big fans of rolling up a nutrient-packed combo of grated carrot, avocado, quinoa and beetroot in a few of these for a healthy, refreshing lunch – hold the energy slump.
Oat inspiration
Oat pancakes
If you're looking for something a bit more bread-like to wrap up with, why not whip up a couple of pancakes? Oat pancakes are fabulously filling, and they're very tasty too. Just grab a bag of Nairn's Scottish Porridge Oats and add half a cup into your go-to pancake recipe. It'll bulk it up somewhat, so you might want to use a little more liquid than usual to compensate. Or find our favourite recipe for oat pancakes here.
Something different?
Maybe you're open to a bread alternative that's a bit 'out of the norm'. If that's the case, you're in for a treat.
Karalian pastries
Originating from the Baltic region, these bite-sized goodies are traditionally made with rye bread, butter and rice and will add instant variety to your lunch break. You can experiment with the filling too. While traditional recipes add things like diced egg, cheese, grated carrot or chopped egg to bring a different dimension to the crunchy rye crust, you can always invent your own take on the pastry.
Almond bread
Maybe you could try your hand at baking up some lovely, low-carb almond bread – great for those following the Paleo diet or those after some gluten free sustenance. Almond bread is surprisingly close in texture and taste to 'real' bread, so the perfect alternative. You'll be able to find almond flour for the mix at your nearest health food store.
Cauliflower bread
Cauliflower bread comes with a similar set of nutritious credentials (low carb, keto-friendly and gluten free), plus it tastes great. Terrific when toasted, or used in a sandwich it's a simple way to score some easy 'health points'. And it goes down a treat when used for toasted cheese!
Avoid the post-lunch energy slump
Although it doesn't taste 'sweet', white bread can be digested very quickly and the starch within converted just as quickly to sugar. That 'slump' that we mentioned earlier is caused by a sudden rush or spike of blood sugar (and energy) which then quickly vanishes from our bloodstream leaving us feeling tired and unfocussed. Switching up to one or more of the alternatives we've highlighted makes a world of difference and it won't take long before you start to feel it.
Here are some of the benefits that you might experience by introducing healthier alternatives into your routine:
Wholegrains like oats help keep you fuller for longer thanks to the fact that they're absorbed by our bodies that bit slower than refined grains. That means they can help you stay in the zone for longer.

Sugar cravings seem to drop off, meaning you feel less tempted to reach for that chocolate bar.

Your blood sugar levels are steadier. This could help you feel a boost in concentration and general mood.

Your gut health will start to improve with less sugar (and more fibre) passing through it. And it will return the favour by building your immune system and even help improve your sleep.

Oat-based products have a higher wholegrain content, meaning more essential micronutrients (vitamins and minerals) than you'd usually get with refined grains like those in white bread.

You can even reduce the risk of certain chronic diseases like heart disease, diabetes and obesity through regularly consuming wholegrains like oats.
So, as you can tell, there's no need to continue 'loafing' around with white bread when there are so many delicious alternatives out there. Switch and ditch! You might just find you like it – your body certainly will.