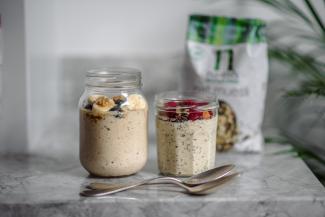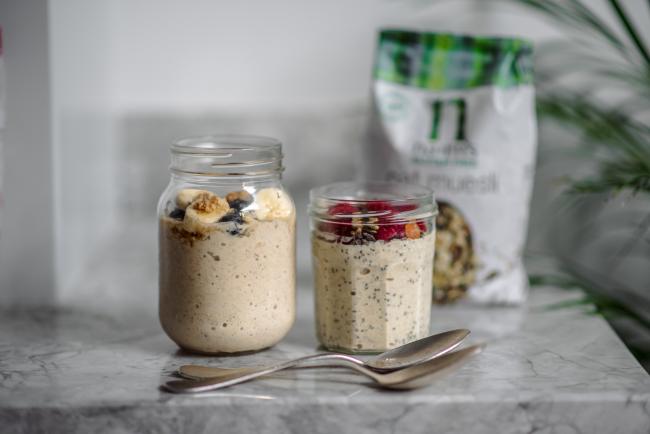 Last updated
November 23, 2016
Imagine waking up to find your breakfast ready to eat in a handy little pot, without you having to do anything apart from roll out of bed and grab a spoon. Well, with overnight oats, it's a reality! Delicious oats paired with milk and a whole host of tasty toppings – from chocolate and nuts to fruit and seeds – layered in a delightfully photogenic jar; what's not to like? 
At Nairn's, we love finding new ways to enjoy oats, especially if it means we can grab a few extra minutes in bed, so overnight oats are right up our street. Oats are a great source of fibre and release energy slowly, making them a brilliant way to start your day. They're also the perfect canvas for a wide range of protein-rich toppings. So, eating them as part of a healthy, balanced diet is a great way to keep your body happy. Incredibly easy to make and packed full of goodness, we want to share a few of our favourite ways to rustle up the oaty breakfast sensation that's sweeping the nation. But first, we need to answer an important question…
Why are overnight porridge oats a good breakfast?
Overnight oats are a great, simple breakfast option because they allow you to get a few more minutes of precious sleep before starting your day. All you have to do is prepare them the night before (very-little-to-no cooking involved) and let the wholesome oats soak up all the milky goodness while you sleep. 
We recommend using equal quantities of rolled oats and whatever liquid you like, whether that's cow's milk or something like almond milk which would be perfect for making vegan overnight oats. Of course, you can vary the oats to liquid ratio depending on how thick or runny you like your oats to be. We like to add a touch of vanilla extract, maple syrup and some thick yoghurt to our basic overnight oats recipe as it adds a lovely creaminess and sweetness to the oats. 
Overnight oats are an easy breakfast to make but we also love the fact that they're a grab-and-go option. You can enjoy your overnight oats on the go, or even when you get to work, and you'll be fuelling your body for the rest of the morning. As oats release their energy slowly, they keep you going for longer than sugar-packed breakfast cereals or white toast. 
What's more, overnight oats are perfect for grown-ups or little ones as they can be dressed up to suit any tastes. Plus, you can make them look as pretty as you want, so why not get creative with your toppings and embrace your inner food stylist or get the kids involved!
Can you use porridge oats for overnight oats? 
The possibilities are endless. You can opt for a range of healthy toppings that are packed with nourishing fruit and seeds or if you're feeling more indulgent, you can dress up your overnight oats with rich, chocolate or caramel flavours. You'd be amazed – more dessert-like overnight oats can be better for you than you'd think if you switch up some ingredients for healthier alternatives, which are still full of flavour and make you feel like you're tucking into a real treat. Here are three of our favourite combinations:
Chia seed, berry and coconut overnight oats
For this recipe, you will need:
•170g Nairn's Gluten Free Scottish Porridge oats
•1 tbsp chia seeds or flax meal
•1 handful frozen berries
•75g coconut yoghurt
•170ml coconut milk or another milk of your choice
•1 tsp coconut flakes
A scrumptiously virtuous pairing, you can enjoy all the goodness of chia seeds, oats and berries with this version of overnight oats. The chia seeds absorb liquid overnight and add a lovely thickness and creaminess to the oats, as well as a lot of nutritional value. Or, if you'd prefer, you could always opt for ground flax meal instead which has the same thickening properties without the unique chia seed texture. 
We recommend using frozen berries for this recipe as they slowly release their juices as the oats rest, imparting an appetizingly sweet and sharp flavoured sauce. Coconut adds a smooth, subtle toasted flavour to counteract the tartness of the berries, as well as a slightly tropical element to send you breezing through the day ahead. You can use both coconut yoghurt and coconut milk with these oats, as well as a sprinkling of coconut flakes on the top for some added crunch. Healthy and scrumptious, what more can you ask for? 
Gluten free apple pie overnight oats
It can be great fun to mix seasonal flavourings into your overnight oat creations. With all the flavours of autumn packed into a jar, these apple pie flavoured overnight oats are a wonderfully cosy way to start your morning. Just layer 170g of our lovely Gluten Free Scottish Porridge oats with the following in a jar or bowl and leave in the fridge overnight:
•2 tbsp apple sauce
•1 grated red apple (with a squeeze of lemon juice so it keeps its colour)
•1 tsp cinnamon
•½ tsp vanilla extract
•75g yoghurt
•170ml milk of your choice 
We recommend adding a sprinkling of brown sugar or coconut nectar on top just before serving for a satisfying crunch and caramel flavour, before you throw on your scarf and head out into the crisp autumnal morning. 
Chocolate and peanut protein overnight oats
A great post-workout breakfast or snack, chocolate and peanut butter is a classic combination and they come together beautifully in this sweet and salty overnight oats recipe. The addition of protein powder (try vanilla or chocolate flavour) makes this the perfect way to refuel after exercise, whether you're at home, in the gym or in the great outdoors. Layer 170g oats with the following and leave to rest for four hours, or overnight:
•2 tbsp peanut butter 
•1 tbsp cocoa powder
•1-2 tbsp protein powder of your choice
•75g Greek yoghurt
•1-2 tbsp maple syrup
•1 tbsp chia seeds
•½ tsp vanilla extract
•170ml almond milk 
•Cacao nibs
•Espresso (optional)
When you're ready to tuck in, sprinkle over a few cacao nibs and chopped peanuts for some extra crunch and added protein to help your muscles recover. You can also add a dash of espresso to the almond milk to create a subtle mocha flavour. 
So, there you have it! Three of our favourite ways to enjoy overnight oats, whether as a nutritious breakfast or a filling snack. Oats are so versatile and go brilliantly with a whole host of delicious ingredients so there is no shortage of pairings that you can create. Go wild, and let us know what your favourite overnight oats recipes are!