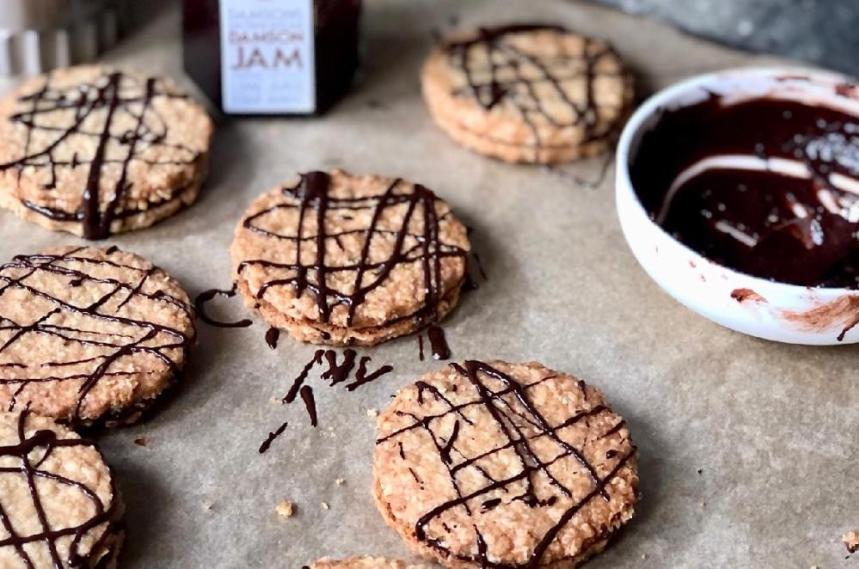 Chocolate Oaty Cookies
Overview
These cookies were inspired by Nicola Lamb's (@nicolaalamb #kitchenproject) 3pm cookies, originally based on a Swedish biscuit.
This recipe was adapted by Kay Armstrong (@delimuru #murukitchen). 
Ingredients
175g Nairn's Gluten Free Porridge Oats
100g plain flour
1tsp bicarbonate of soda
50g soft light brown sugar
75g butter (cold) chopped
100g butter (for melting)
2tsp honey
1tsp apple cider vinegar
150g dark chocolate
Damson jam
Instructions
In a large bowl add all the dry ingredients and gently rub the cold butter into the dry mix.
In a small pan melt the 100g butter and honey, allow to cool before adding the vinegar.
Combine the wet ingredients with the dry.
Roll out between two sheets of parchment paper to 4mm thick and pop into the fridge for about an hour.
Cut out 6cm circles, continue rolling the mix until complete, if it becomes too soft pop back into fridge.
Place on the baking sheet, allow a little space between each cookie and bake for 12-14 minutes until golden.
Cool on a wire rack.
Meanwhile over a pan of simmering water place a heatproof bowl and gently melt the chocolate, take off the heat and allow to cool and thicken slightly.
Add a good couple of teaspoons of chocolate to the flat side of a cookie and a teaspoon of jam, sandwich together. Repeat until all cookies are finished.
With remaining chocolate, melt slightly and drizzle over the top of the cookies!