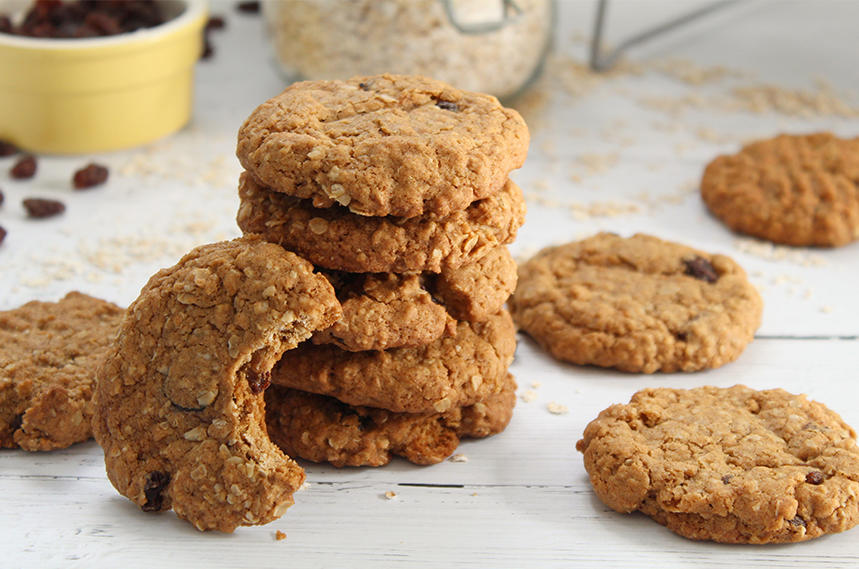 Gluten Free Oat And Raisin Cookies
Overview
What's better than homemade baked cookies? Gluten free oat and raisin cookies!  Sarah Howells' take on this classic recipe is super easy to make.
Plenty of other great gluten free recipes available on Sarah's website, so go and check them out!
Ingredients
125 g unsalted butter (melted)
100 g golden caster sugar
125 g soft dark brown sugar
1 large egg
200 g plain gluten free flour
1/2 tsp bicarbonate of soda
1/4 tsp xanthan gum
150 g Nairn's Gluten Free Scottish Porridge Oats
100 g raisins
1 heaped tsp ground cinnamon
Instructions
Preheat the oven to 180'C and line two baking sheets with baking paper. Set aside. In a large mixing bowl add the melted butter and sugars and stir to mix together
Add the egg and mix well. Sift in the flour, bicarb, xanthan gum and cinnamon and mix together using a wooden spoon. It should form a thick, sticky dough
Add the oats and raisins and mixed together until fully combined and the raisins are evenly distributed. Break off golf-ball-sized pieces and roll into a ball. Place on the baking sheet and flatten. Repeat until all the mixture is used - leave approx 2-3cm between each cookie.
Bake for 12 minutes until golden. Remove from the oven and cool on a rack before eating. Enjoy with a nice cuppa! Will keep for approx a week in a sealed container.