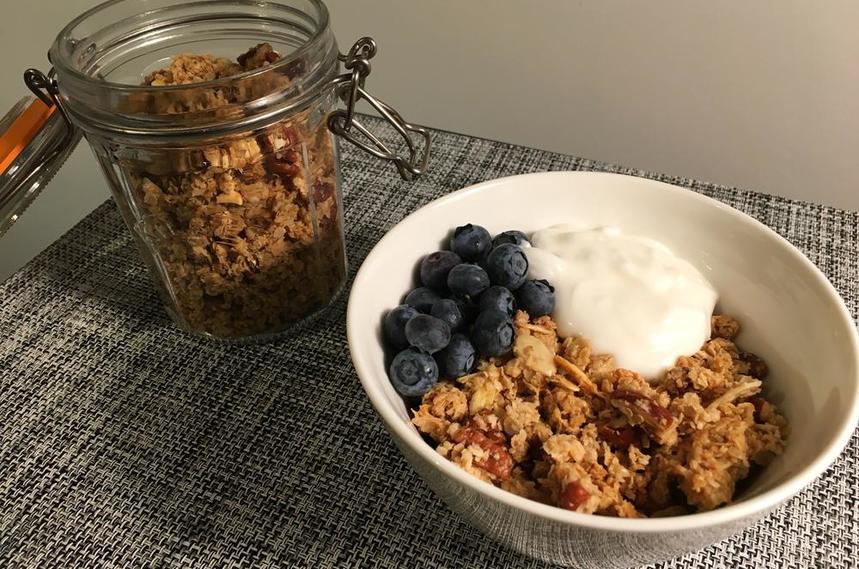 Maple and Pecan Granola
Overview
This delicious gluten free maple and pecan granola recipe is a tasty and healthy way to start your day on the right foot. Created by our guest contributor Dave Robson at the Coeliac Man. Find his other great recipes here:
Ingredients
200g Nairn's gluten free porridge oats
50g pecan nuts
30g flaked almonds
4tbsp coconut oil
4tbps maple syrup
A couple of pinches of ground cinnamon
Instructions
Preheat oven to 170 degrees centigrade (fan).
Add the oats, pecans, almonds and cinnamon to a bowl and stir.
Put the coconut oil into a saucepan over a low heat and stir until melted.
Add the maple syrup to the melted coconut oil and stir.
Pour the liquid mixture over the dry ingredients and stir until well combined.
Put the mixture into a baking paper lined baking tray and press down with a spoon.
Bake for around 30 mins or until it turns golden brown, mixing halfway through.
Take out of the oven and leave to cool in the tray.
Enjoy served with cereal, fruit, yoghurt etc!