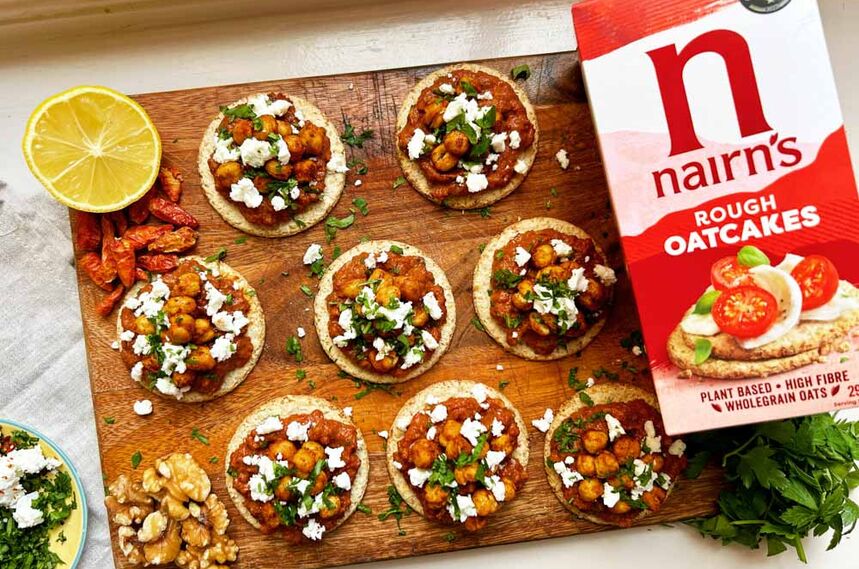 Muhammara Oatcakes with Spiced Crispy Chickpeas and Feta
Overview
Muhammara is a delicious Middle Eastern dip made with roasted red peppers, walnuts and pomegranate molasses. In this recipe it is used as a high-fibre oatcake topping complete with spiced, crispy chickpeas and crumbled, salty feta. 
Ingredients
3 red peppers, deseeded and halved
5 tbsps olive oil
A can of chickpeas, rinsed and drained
2 tsps smoked paprika
2 tsps ground cumin
½ tsp hot chilli powder
15g breadcrumbs, toasted
50g walnuts, toasted and roughly chopped
2 tbsps pomegranate molasses
Juice of a lemon
1 garlic clove, finely chopped
1 tsp tomato puree
50g feta, crumbled
Handful parsley, finely chopped
Salt and pepper
Nairn's Rough Oatcakes
Instructions
Preheat the oven to 200°C fan/220°C.
Place the halved peppers on a parchment lined baking tray and drizzle with 1 tbsp olive oil. Season with salt and pepper, rub the oil all over the peppers and roast for 35-40 minutes until the skin is blackened and blistered.
Meanwhile, put the chickpeas on another parchment lined tray and add ½ tbsp olive oil, 1 tsp cumin, 1 tsp smoked paprika and ¼ tsp hot chilli powder. Season, stir well and roast underneath the peppers for 30 minutes until crispy. Set aside.
Once the peppers are ready and just out the oven, put them in a large bowl and cover with cling film quickly. (The steam from the hot peppers allows the skins to peel off easily so it is important to do this step while they are still hot). Allow to cool.
Once the peppers are cool enough to handle, peel off the skins and place the flesh in a food processor with the rest of the olive oil, 1 tsp smoked paprika, 1 tsp cumin, ¼ tsp hot chilli powder, the breadcrumbs, walnuts, pomegranate molasses, lemon juice, garlic, tomato puree and ½ tsp salt. Blitz until the muhammara is smooth but still with a little texture. 
Spread a spoonful of muhammara over each oatcake and top with the chickpeas, feta and parsley. Enjoy!
 
Recipe by @bethanyfergusonfoodstyling