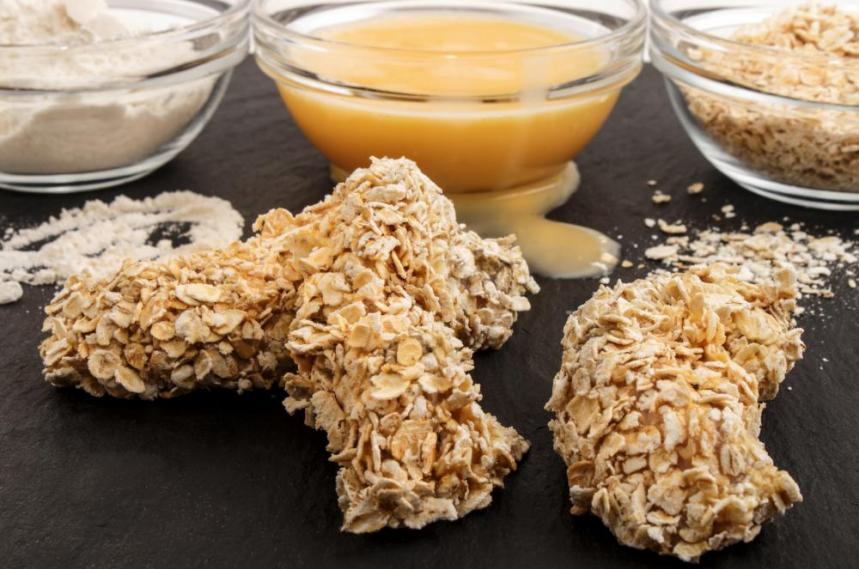 Oat chicken goujons & sweet chilli salsa
Overview
Looking for an alternative to chicken nuggets, why not try these oat covered chicken goujons.
Ingredients
For the Salsa:
100g/4oz ripe tomatoes
1 red chilli, deseeded and finely chopped
2 spring onions, trimmed and finely chopped
1 small ripe avocado
Grated rind and juice of 1 ripe lime
1 tsp of clear honey to taste
1 tbsp freshly chopped coriander
For the Goujons:
350g/12oz boneless, skinless chicken breast fillets
2 tbsp plain flour
100g/4oz Nairn's Fine Milled Oatcakes
1 tsp chilli powder to taste
1 large egg, beaten
1 tbsp olive oil for drizzling
Fresh coriander sprigs to garnish
Instructions
Preheat the oven to 190°C, (fan oven 170°C), Gas Mark 5, 10 minutes before cooking
Mix all the ingredients together for the Salsa, cover and leave for flavours to develop while preparing the cooking of the Goujons
Lightly rinse the chicken breast, pat dry and cut into long, thin strips
Place the oatcakes in a food processor and whiz until crushed. Add the chilli powder and whiz for 10 seconds, then place on a large plate or in a polythene bag
Place the flour on a separate plate and the egg in a shallow bowl. Roll the chicken strips in the flour, then dip in the egg, allowing any excess to drip back into the bowl. Roll in the crushed oatcakes until thoroughly coated
Place on a non-stick baking tray and drizzle with the oil. Cook in the preheated oven for 15-20 minutes or until thoroughly cooked and the coating is crisp and golden
Stir the prepared Salsa and garnish with fresh coriander sprigs and serve with the Goujons and salad leaves
Cooks tip: Try using some of our other oatcake varieties to coat the Goujons such as Organic Super Seeded, Cracked Black Pepper or Cheese.