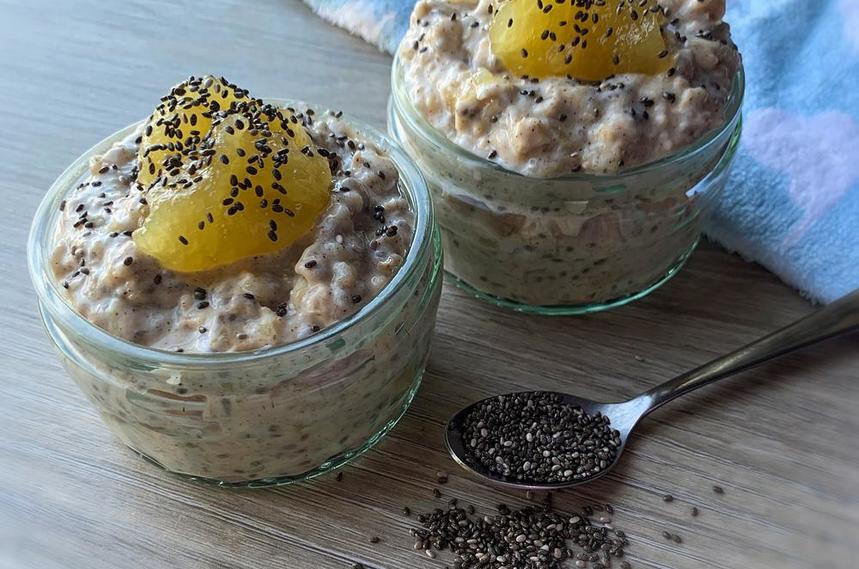 Stewed Apple Cinnamon Overnight Oats
Overview
A delicious and hearty breakfast that will keep you full and energised all morning. This stewed apple cinnamon overnight oats recipe is gluten-free and can be amended to be vegan-friendly.
Delicious recipe by Natasha Gelder
Ingredients
500g cooking apple
75g caster sugar
3 tbsp water
200g vanilla yogurt
50g gluten free oats
75g stewed apple
100ml milk
10g chia seeds
1 tsp cinnamon
Instructions
To make the stewed apple;
•    Peel and chop 500g of cooking apple, taking care to remove the core
•    Place in a saucepan with the sugar and water over a moderate heat and bring to the boil
•    Cover the saucepan and allow to simmer over a low heat for five minutes
•    Remove from the heat and stir well, set aside and allow to cool

To make the oats;
•    Add of all the ingredients to a large bowl and mix well so all the ingredients are combined
•    Place in the fridge and leave to set for a minimum of five hours
•    Serve topped with a dollop of extra stewed apple and a sprinkle of chia seeds!