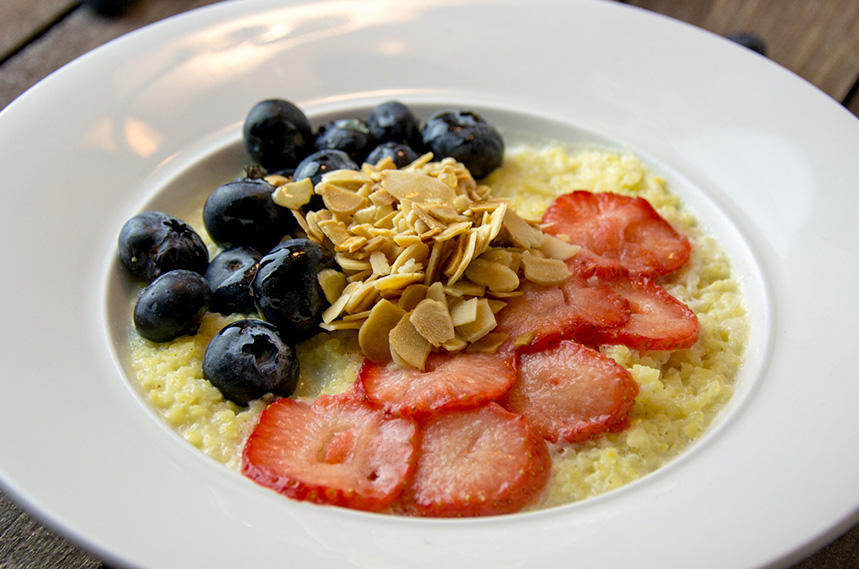 Toasted Oat And Almond Porridge
Overview
This no frills toasted oat and almond porridge recipe is super tasty and healthy, but is also very adaptable. Top it up with your favourite fruits, seeds and nut butter for an amazing breakfast!
Ingredients
50g Nairn's gluten free porridge
10g flaked almonds
125ml water
125ml milk or milk substitute
Honey to taste
Fruit of your choice to serve
Instructions
1. Add 30g of your oats and the water to a saucepan and leave to soak for at least 20 minutes.
2. After 20 minutes, add your unsweetened milk to the pan and cook on a medium heat for 5 – 10 minutes, the porridge shouldn't boil, if it begins to bubble reduce the heat slightly, slow and steady cooking will make your porridge creamy and delicious.
3. While your oats are cooking take the remaining 20g of oats and your flakes almond and fry in a dry frying pan for 5 minutes or until golden.
4. When your porridge is finished cooking sprinkle over the toasted oats and almonds for a crunchy topping. Serve with your favourite fresh fruit and berries and a drizzle of honey or even maple syrup if you prefer and enjoy!