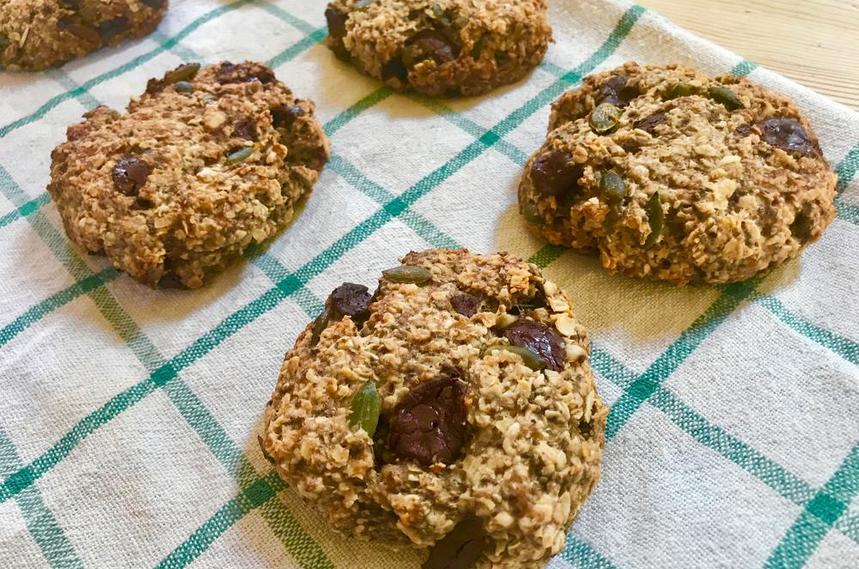 Vegan Oatmeal Cookies
Overview
This simple vegan oatmeal cookie recipe makes the most of five energy-supporting foods! Whip up a batch and enjoy one when you need an energising snack. 
Recipe by Fiona Lawson
 
Ingredients
180g Nairn's Gluten Free Scottish Porridge Oats
3 ripe bananas, mashed
30g butter or coconut oil, melted
2 tbsp chia seeds + 6 tbsp water
2 tbsp pumpkin seeds
40g 85% dark chocolate, chopped
half tsp cinnamon
dash vanilla essence
Pinch salt
Instructions
1. Preheat the oven to 180°C (or 160°C fan). Line a baking tray with baking paper.
2. In a small bowl, mix the 2 tbsp chia seeds with 6 tbsp water and pop in the fridge for 5 minutes.
3. Chop the dark chocolate into small, chip-like pieces, and put in a large mixing bowl with the oats, pumpkin seeds, cinnamon and salt.
4. Make a well in the middle of the oat mixture, and add the mashed banana, melted butter (or coconut oil), and chia seed-water mixture from the fridge. Add a dash of vanilla essence and stir well to combine.
5. Using your hands, divide the mixture into 8. First mould each eighth into a ball, then flatten to create a cookie shape. Place on the baking tray with a space between each cookie. 6. Bake for 25 minutes, or until the cookies take on a golden-brown hue.
Tip: if you use coconut oil instead of butter, these cookies are suitable for vegans.