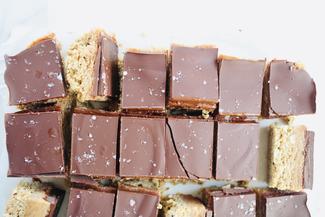 Guest blogger and plant based foodie, Charlotte Webber (@charlotteemma) shares her pre and post workout snacking regime and delicious peanut butter shortbread recipe...
Being a pretty active person means that I am almost always looking for snacks that are going to fuel either a workout or a speedy recovery. I really like making my own pre-/post-workout snacks because I can make sure they are full of energy and are enjoyable to eat rather than subjecting myself to a pre-workout supplement or energy drink. I love filling them with nuts, oats, dried fruit, chocolate etc. because topping up on carbohydrates and a bit of sugar is ideal both before and after putting my body through the mill. Generally, I'll eat a meal about 2 hours before a workout, making sure it's got some slow release carbohydrates (oats are perfect!) or I'll have a smaller snack about 30-45 minutes before – this is usually some nuts, dates with peanut butter, a banana or a homemade energy bar/ball. Then I'll always make sure to have a small snack immediately afterwards – usually some soy milk, a protein shake or a snack bar – and I'll eat a full meal within 2 hours. 
Fuelling for exercise doesn't have to be complicated or a chore, and you don't have to have a diet plan or spend a load of money on pre-workout shakes or supplements. Nutritious, whole foods that you can find in the supermarket are perfect for giving your body what it needs to power through a run, workout or busy day at work! I have been loving Nairn's Oatcakes and have been packing them in my bag almost every day for at least the last year. They're high in fibre and oats naturally contain vitamins & minerals too – especially iron and B6, which is great for a plant-based diet as we don't get these from meat/dairy products. The Ancient Grains Oatcakes that I've used in my peanut butter shortbread recipe have the added bonus of being a source of protein and contain rye, amaranth and quinoa (when using Ancient Grain Oatcakes) which are great sources of slow-release energy and a natural source of useful nutrients. They're perfect to snack on after work and/or before the gym to give me a little boost. 
Grinding oatcakes into a flour makes for the speediest way to pack an energy bomb into a pre-workout snack and work perfectly as a base for these peanut butter shortbread energy bars. These bars are perfect for a pre-gym snack or a post-run treat and they're super quick and easy to make – I whipped a batch up on Sunday night to see me through the week!