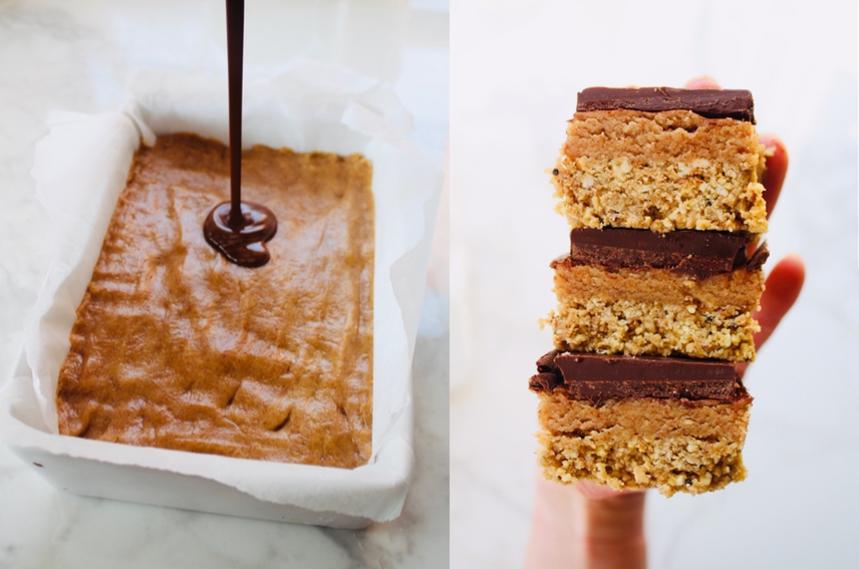 Peanut butter shortbread energy bars
Overview
Guest blogger and plant based foodie, Charlotte Webber shares this delicious and slightly more indulgent recipe to keep your energy levels up. These bars are perfect for a pre-gym snack or a post-run treat and they're super quick and easy to make. Why not whip up a batch on Sunday to see you through the week?
Ingredients
FOR THE BASE:
200g Nairn's Oatcakes (Ancient Grain or Rough or Super seeded
100g cashews
Pinch of salt
50g coconut oil
100ml maple syrup
1 tbsp golden syrup
FOR THE PEANUT BUTTER CARAMEL:
250G smooth peanut butter
50ml maple syrup
Pinch of salt
FOR THE CHOCOLATE:
200g dark chocolate
1 tbsp coconut oil
2 tsp flaky sea salt
Instructions
Add the oatcakes to a food processor and grind to a coarse flour. Remove and set aside in a large bowl.

Add the cashews to the food processor and grind to a coarse flour and add to the bowl with the ground oatcakes and salt.

Melt the coconut oil and add to the flour mixture along with the maple and golden syrup. 

Mix well until the mixture starts to come together – it should stick together if you press it between your fingers.

Spread over the base of a lined freezer-safe dish (mine was 4 x 6 inches) and press down using the back of a metal spoon. 

Place in the freezer while you make the peanut butter caramel.

For the caramel, add all the peanut butter caramel ingredients to the food processor and blend until smooth and creamy (1 – 2 mins).

Remove the base from the freezer and pour over the peanut butter caramel. Return to the freezer.

For the topping, melt the dark chocolate and coconut oil slowly over a bain-marie.

Remove shortbread/caramel from the freezer and pour over the chocolate. Sprinkle over the flaky sea salt.

Allow to set by storing in the freezer for 30 mins or in the fridge for at least 2 hours.

Once set, cut into 18 pieces – warming a sharp knife in hot water before slicing can help you make a clean cut without squeezing out the filling!
Store in the fridge for up to 1 week.