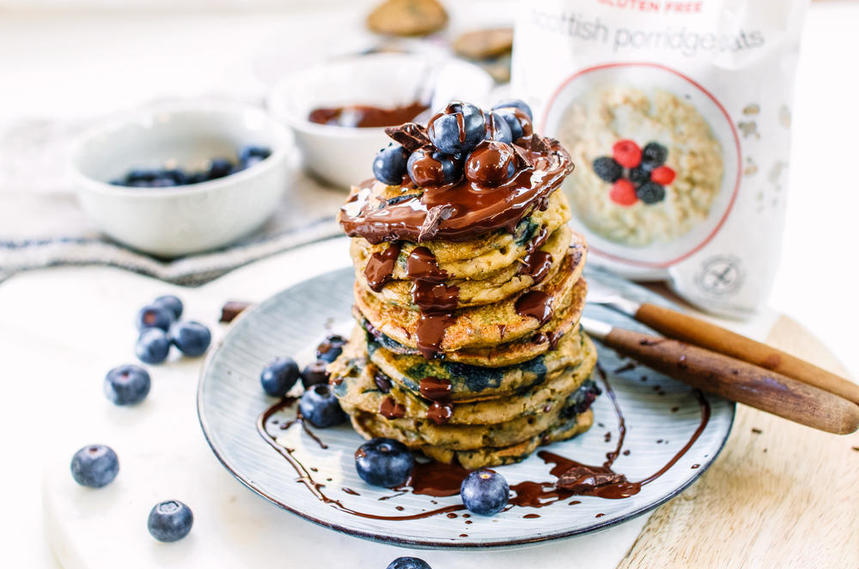 Gluten Free Oat & Blueberry Pancakes
Overview
These easy to make gluten free oat and blueberry vegan pancakes are a delicious and nutritious breakfast to enjoy, every day and not just pancake day! The pancake batter is made with Nairn's Gluten Free Scottish Porridge Oats, almond milk and naturally sweetened with a banana and a splash of maple syrup. The hot blueberries burst filling the oat pancakes with their glorious flavour. Serve hot with a drizzle of dark melted chocolate and lots of fresh juicy blueberries.
A delicious recipe by Healthy Twist. Find more of their recipes here:
Ingredients
Pancake mix
360ml unsweetened almond milk
1 tbsp. apple cider vinegar
175g Nairn's Gluten Free Scottish Porridge Oats
1 banana
1 tsp. bicarbonate of soda
1 tsp. vanilla extract
1 tbsp. maple syrup
1 tbsp. coconut oil
100g blueberries
1 tsp. rapeseed oil
Topping
Blueberries
25g dark chocolate, melted
½ tsp. coconut oil
Instructions
Pour the unsweetened almond milk into a jug and add the apple cider vinegar, stir and set to one-side for 5 minutes.
Meanwhile, add the Nairn's Gluten Free Scottish Porridge Oats to a blender along with the banana, bicarbonate of soda, vanilla extract, maple syrup and coconut oil. Pour in the almond milk and apple cider vinegar mix and blend until the pancake batter is smooth.
Transfer the batter to a bowl and stir in 100g of fresh blueberries.
Heat a large frying pan over a medium heat. Add a little rapeseed oil to the base of the pan and lightly wipe it around with some folded kitchen roll. Use a tablespoon measuring scoop and scoop 2 tablespoons of batter per pancake into the base of the frying pan. Cook each pancake for 3 to 4 minutes until bubbles start to appear on the surface before turning over and cooking on the other side for a further 3 to4 minutes, until golden.
As they cook, place each pancake onto a plate. Keep them warm in the oven on a low heat. Continue to cook the pancakes until all the batter is finished. Add 25g of dark chocolate to a bowl with ½ teaspoon of coconut oil and melt in the microwave for 2 minutes and stir.
Serve the blueberry pancakes with a drizzle of the melted dark chocolate and fresh blueberries.