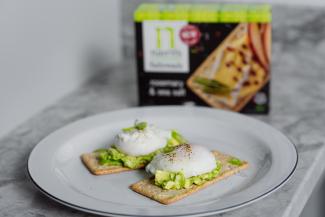 Last updated
November 23, 2016
Whether through preference or requirement, opting for a gluten free diet is now common for many people. If you've been diagnosed with coeliac disease, have a gluten intolerance or would just like to cut down on gluten for other health reasons, we want to share our top gluten free tips with you and help you make the right choices for your diet. 
We've also been lucky enough to speak to three top UK-based gluten free bloggers – Becky Excell from Gluten Free Cuppa Tea, Vicki Montague from Free From Fairy and Loriley Sessions  – to find out their advice and recommendations for those following a gluten free diet, as well as tips for those who are new to eating gluten free food. So, let's get started by answering an important question!
I'm gluten intolerant, can I eat oats?
The short answer is yes, but only if they are certified as gluten free – naturally oats do not contain gluten but can be contaminated during growing, milling and baking by other gluten-containing grains. Nairn's gluten free oats are carefully sourced, farmed and expertly milled to ensure they remain free from contamination. We then make all our gluten free products in a dedicated gluten free bakery and test every batch to ensure they are free from gluten.
So like Vicki, Loriley and Becky, you can pair a few of our Gluten Free Wholegrain Crackers with creamy avocado and poached egg for a healthy, filling breakfast or slather one of our Gluten Free Oatcakes with peanut butter for a delicious gluten free snack.
Top Tip 1: Don't settle for bland
"Many people seem to think that gluten-free food would be inferior; that it would taste funny and not be very nice. When people try my gluten-free food they have no idea that they are eating something without gluten."
Source: Vicki Montague
There's no need to eat bland, flavourless and processed foods when there are so many great, gluten free recipes out there, as well as a whole host of gluten free ingredients and understanding restaurants available. As Becky told us during her interview:
"Going gluten free has made me discover so many more naturally gluten free products that I never would have otherwise." 
Source: Becky Excell
Oats are just one of many delectable, versatile and – most importantly – naturally gluten free alternatives that we have at our fingertips; quinoa and pulses are also great options. Not to mention the abundance of protein-rich foods that go brilliantly with oats and other alternatives such as nuts, avocado, cheese and eggs. It's so easy to whip up your own gluten free recipes which are often healthier and tastier than processed, bland gluten free products. Why not try Loriley's fabulous veggie shakshouka recipe, perfect for breakfast, lunch or dinner when paired with a few of our dunk-able gluten free oatcakes!
Photo: GF Sesh 
Top Tip 2: Sharing isn't always caring
"My intolerance to gluten has worsened over the last year, and I have to be extra careful of cross-contamination. Separate toasters and butter's a must."
Source: Loriley Sessions
If you suffer from Coeliac Disease or are highly intolerant to gluten, then even using the same toaster as another family member could be a real dietary problem. A structured regime is the key to avoiding harmful cross-contamination; it may be wise to consider purchasing your own utensils if you are highly gluten intolerant or suffer from Coeliac Disease. Keep surfaces wiped clean of crumbs and invest in some toaster bags or even a separate toaster for your gluten free toast.  
We know sometimes it can be difficult to have a different diet to the people around you, so we recommend that you plan ahead and make the most of your gluten free lifestyle. Why not host a cheese and wine night and substitute bread and gluten containing crackers for gluten free oatcakes and wholegrain crackers? Or switch the family to Nairn's Gluten Free Porridge Oats, so the whole household can start the day with a healthy, filling breakfast alongside you? Once you're familiar with what gluten free options are out there and what kinds of food trigger your symptoms, it will become easier to spot what you can have and what you should avoid, especially when eating out. 
Top Tip 3: New old favourites
"When I first started I was worried I wouldn't be able to eat any of my favourite foods. Rest assured there are fabulous alternatives out there, brilliant gluten free brands, and very accommodating and understanding restaurants."
Source: Loriley Sessions
One of the biggest misconceptions for those new to following a gluten free diet is that you won't be able to eat the food you love anymore. Thankfully, this isn't the case! With a few simple tweaks, it's possible to literally have your cake and eat it, and it's very likely that you'll have created an even tastier version! With everything from oat flour to coconut flour and even ground almonds, it's easy to make scrumptious, gluten free cakes and sweet treats; take Vicki's healthier baked gluten free doughnuts for example. 
Photo: Free From Fairy
However, it's not just gluten free sweet treats that you might be worried that you'll be missing; many savoury favourites contain gluten, especially takeaways. Luckily, you can still enjoy these too thanks to the wide variety of gluten free alternatives to everyday ingredients that are available in today's market. Whether you crave the Oriental flavours of a classic Chinese takeaway or the satisfying crunch of a fish supper, there are a whole host of incredibly tasty gluten free recipes to choose from! 
Take a look at Becky's tasty gluten free takeaway-style Chinese chicken curry recipe, perfect for Saturday nights and much lighter than a traditional takeaway. Or for a more virtuous fish and chip supper, why not try our recipe for coconut and oat crusted salmon nuggets, made by blitzing up some of our gluten free oatcakes in a food processor and adding desiccated coconut to make a healthier crust!
Top Tip 4: It gets easier
"Don't stress out about it and think your life is ending because your diet has to change. Think of it as a change for the better. I started to cook so much more and discovered new dishes and restaurants due to eating gluten free."
Source: Becky Excell
It may seem like the end of the world because you have to change your diet, but it may actually be an opportunity to broaden your horizons and discover a whole new world of delicious food, just without gluten. It's important to remember that changing our eating habits can be a mental journey as much as a physical journey, and to bear in mind that you're not alone. There is a huge, supportive gluten free community out there, so why not set up your own blog or an Instagram account and get to know them? 
At Nairn's, we're devoted to producing healthy, wholesome food, but we understand that everyone needs a little indulgence once in a while, especially when you're craving old favourites. Our extensive gluten free range includes scrumptious gluten free oatcakes, crackers, biscuits and cereals so there is truly something for everyone. The most important thing is to always remember that it gets easier, no matter how hard it may seem, as Vicki from Free From Fairy told us in her interview:
"Stay positive! It might seem really awful at first, but with gluten free ingredients readily available now you can re-create a gluten free version of almost anything."
Source: Vicki Montague 
We hope that you find these tips helpful and that you discover a whole host of delicious gluten free alternatives, like our lovely gluten free oaty products that are the perfect addition to your daily diet, whether you're new to the world of gluten free living or an old hand.