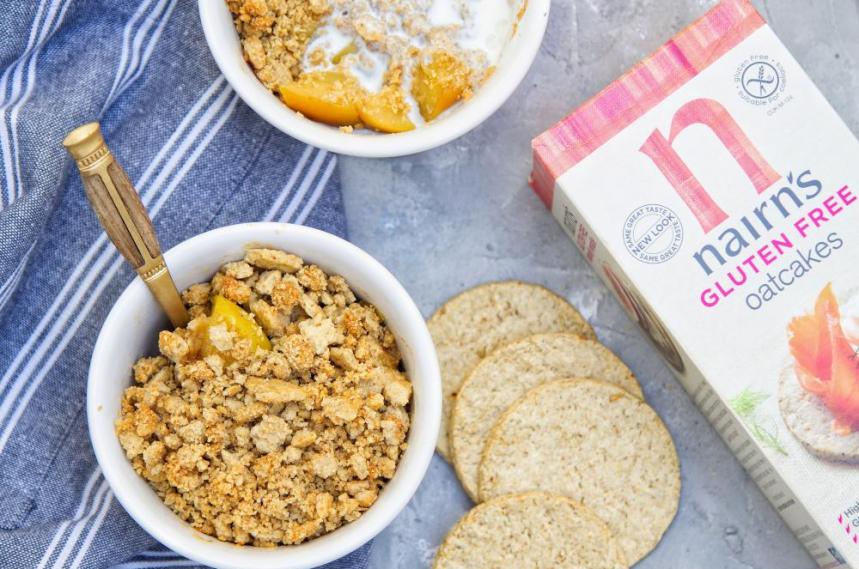 Instructions
Pre heat your oven to 180C
Simply chop the apples and pears into small cubes, you can peel them if you wish.
To a large pan add the apples, pears, 6 tbsp maple syrup and cinnamon and stir. Cook these down for 10 minutes on a medium heat.
Meanwhile prepare the crumble topping by adding all the oatcakes from the box into a large mixing bowl and bash them into crumbs. Add the melted coconut oil and maple syrup and mix well.
Transfer the fruit to a baking dish and evenly top with the crumble.
Place the apple and pear crumble in the oven at 180C for 15 minutes.
Tip: serve with dairy free cream or yoghurt
Overview
This delicious apple and pear crumble is the perfect warming recipe for a crisp winters day.
Recipe by James Wythe
Ingredients
4 pears, chopped into cubes
4 apples, chopped into cubes
8 tbsp maple syrup
2 tsp cinnamon
1 box of Nairn's Gluten Free Oatcakes
2 tbsp coconut oil, melted