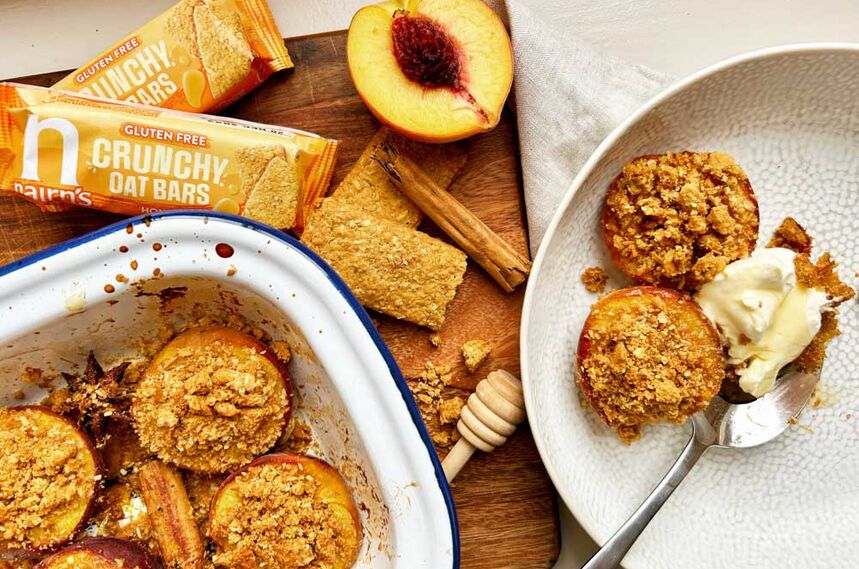 Baked Spiced Peaches with Honey Oat Granola
Overview
A healthy breakfast or dessert recipe, these baked peaches take just minutes to prepare but deliver maximum satisfaction.
Ingredients
3 peaches, halved and destoned
Zest and juice of 1 orange
1 vanilla pod, seeds removed
3 cardamom pods
1 star anise
1 cinnamon stick
1 tbsp runny honey
6 Nairn's Honey Crunch Oat Bars
Crème fraiche or natural yoghurt to serve
Instructions
Preheat the oven to 160°C fan/180°C.
Place the peaches in a small baking dish, cut side up. Add the zest and juice of the orange, the seeds from the vanilla pod (including the husks) and the rest of the spices. Drizzle over the runny honey and stir well. 
Crumble over the Nairn's Honey Crunch Oat Bars and bake in the oven for 20-25 minutes until the peaches have softened and the oat topping is crunchy.
Serve with some natural yoghurt or crème fraiche and an extra drizzle of honey.
 
Recipe by @bethanyfergusonfoodstyling