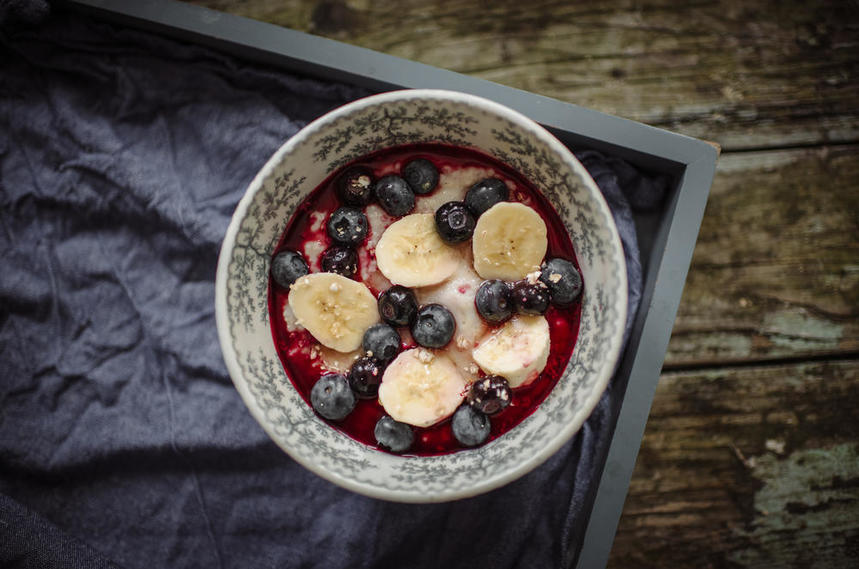 Banana Porridge with Blueberry Compote
Overview
Both healthy and delicious, this banana porridge with blueberry compote is the perfect recipe for a tasty and nutritious breakfast. As with most of our breakfast recipes, this porridge is gluten free.
Ingredients
40g Nairn's gluten free porridge oats
125ml water
125ml milk or substitute
115g blueberries
4 tsp maple syrup
4 tsp lemon juice
4 tsp water
Instructions
Method for the compote
1. Add all your ingredients to a saucepan.
2. On a low heat, allow the berries to become soft and gooey and the liquid to reduce to be more like a syrup. This should take around 15-20 minutes.
3. Remove from the heat and leave to cool – it will thicken up more as it cools.
Method for the porridge
1. Add 30g of your oats and the water to a saucepan and leave to soak for at least 20 minutes.
2. After 20 minutes, add your milk to the pan, half you banana sliced as thinly as possible and cook on a medium heat for 5 – 10 minutes, the porridge shouldn't boil, if it begins to bubble reduce the heat slightly, slow and steady cooking will make your porridge creamy and delicious and your banana will gently dissolve into the porridge mixture.
3. When your porridge is cooked to perfection serve in a bowl and serve with the blueberry compote, the rest of the banana and some flesh blueberries.