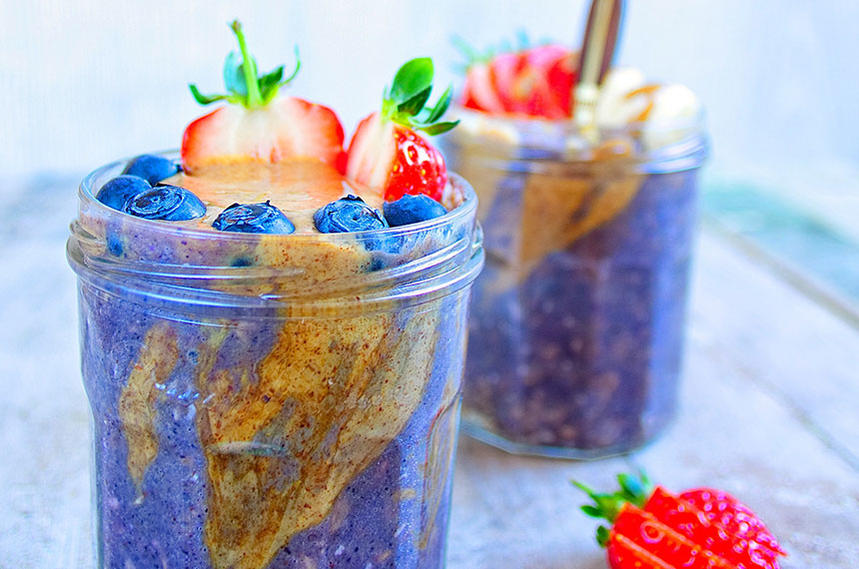 Blueberry Protein Overnight Oats
Overview
This simple recipe is a tasty and healthy way to kick start your day. To have at home or on the go, it is packed with protein, this is the perfect breakfast for an active day! 
Recipe by James Wythe
Ingredients
50g Nairn's Gluten Free Scottish Porridge Oats
1/2 cup blueberries (frozen or fresh)
1/2 ripe banana
1 tbsp protein powder
1 tsp chia seeds
125 ml unsweetened almond milk
1/2 tsp acai powder (optional)
Instructions
1. Place the blueberries, banana, protein powder, chia seeds, acai (optional) and almond milk into a blender and blend for around 30 seconds
2. In a jar/container/bowl place the 50g of oats
3. Now pour over the smoothie mixture and stir thoroughly
4. Cover and place in the fridge to set overnight
5. In the morning you can top with whatever you like, my personal favourites; peanut butter, fresh fruit, bee pollen, cacao nibs, coconut flakes.