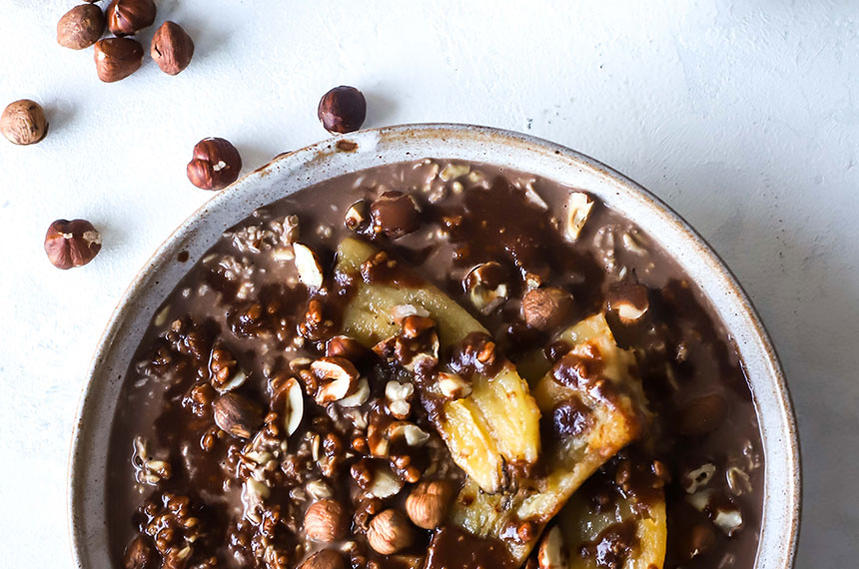 Chocolate And Banana Overnight Oats
Overview
An indulgent yet healthy breakfast with caramelised banana, cacao, coconut and hazelnuts. Who can say no to chocolate for breakfast!
Recipe by Charlotte Héléna
Ingredients
1 cup Nairn's Gluten Free Scottish Porridge Oats
1 cup oat milk
1 heaped tbsp honey
1 heaped tbsp desiccated coconut
1 tbsp cacao powder (or more to taste)
1 banana
1 tsp coconut oil
Handful of hazelnuts
Favourite nut butter to top
Instructions
1. In a mixing bowl, combine the oats, oat milk, cacao powder, coconut and honey and mix well.  Place this in the fridge for an hour or overnight to thicken.
2. When you're ready to serve, heat a little coconut oil in a frying pan over medium heat, then slice the banana in half length ways and then in half again.
3. Place this onto the pan flat side down and cook until golden and caramelised on both sides.
4. Serve the oats topped with the banana, a sprinkling of hazelnuts and a good drizzle of nut butter, then get stuck in!