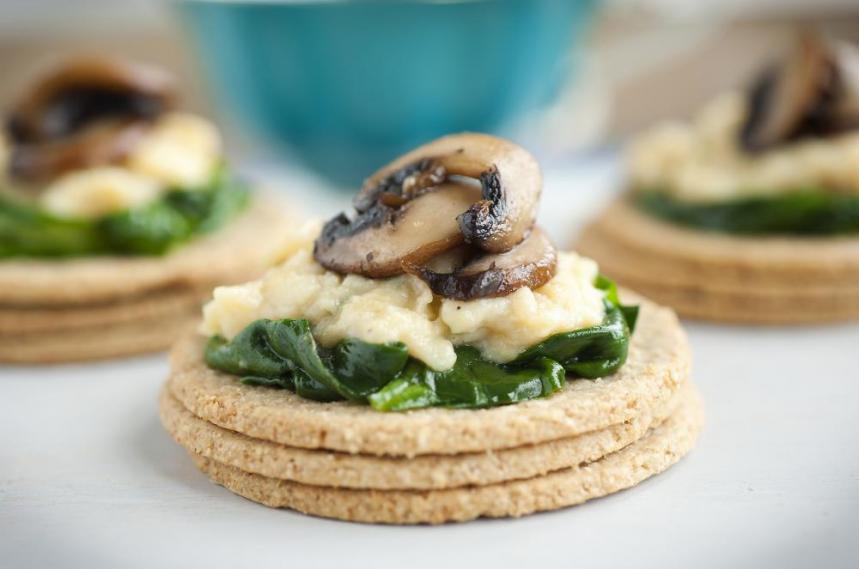 Scrambled egg with sauteéd mushroom and chives
Overview
Packed with protein and fibre, this is ideal as a healthy lunch or post gym snack.
Recipe by Christine Bailey
 
Ingredients
1 tbsp sunflower oil
25g butter
75g mushrooms, quartered
squeeze of lemon juice
salt and pepper
3 eggs
1 tbsp milk
a good handful of baby spinach leaves
1 tbsp finely chopped chives
Instructions
Heat the sunflower oil with half the butter in a medium sized frying pan on a gentle heat.
Add the mushrooms and sauteé for 4-5 minutes until softened and turning golden.
Squeeze over the lemon juice and season well with salt and pepper before removing from the heat with a slotted spoon.
Crack the eggs into a bowl, add the milk, season with salt and pepper and beat together.
Add the remaining butter to a small saucepan on a low heat, pour in the eggs and cook for 2-3 minutes, stirring continuously until the butter has melted and they are softly scrambled.
Next stir in the spinach, cook for just 30 seconds until the spinach has wilted, then stir in the chives and sautéed mushrooms, Remove from the heat and taste for seasoning.
To serve, top the oatcakes with a spoonful or two of the scrambled egg mixture.