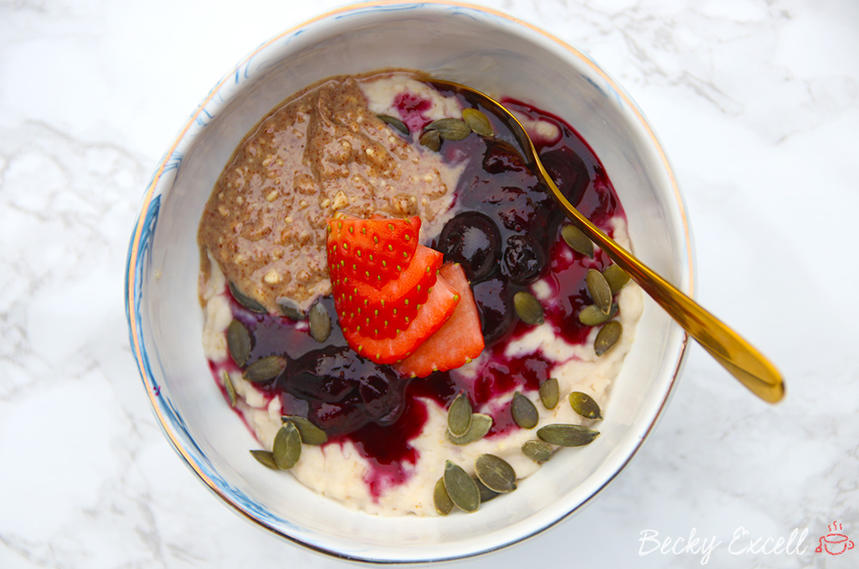 Vegan Blueberry Porridge
Overview
Both delicious and healthy, this vegan blueberry porridge recipe is an amazing breakfast that will keep you full all morning. And it is of course gluten-free!
Delicious recipe by Becky Excell
Ingredients
For the blueberry compote
28g blueberries
1 tsp maple syrup
1 tsp lemon juice
1 tsp water
For your oats
50g gluten free oats
125ml water
125ml almond milk
Toppings
1 tbsp pumpkin seeds
1 tsp peanut butter
2 strawberries
Instructions
1. Add your oats and water to a saucepan and leave to soak for at least 20 minutes.
2. After 20 minutes, add your unsweetened almond milk to the pan and cook on a medium heat for 5 minutes.
3. In a second saucepan, add your blueberries, maple syrup, lemon juice and water. On a low heat, allow the berries to become soft and gooey and the liquid to reduce to be more like a syrup. This should take around 10 minutes.
4. Once your porridge is nice and thick and creamy, spoon it into your fave porridge bowl. Add your blueberry compote on top, sprinkle on some pumpkin seeds and finish with a strawberry.