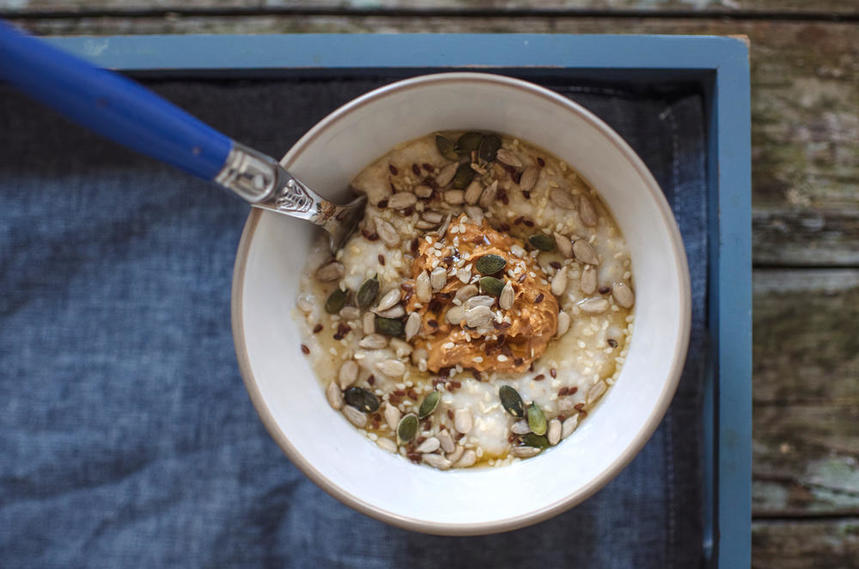 Protein Porridge With Homemade Peanut Butter
Overview
This delicious protein porridge with homemade peanut butter recipe is a perfect pre or post workout breakfast. It is also delicious and suitable for both vegan and gluten free diets. And if you don't have time to make your own peanut butter, ready made nut butters are also good to go!
Ingredients
40g Nairn's Gluten Free Porridge Oats
125ml water
125ml milk or substitute
1 tbsp mixed seed
50g raw almonds, walnuts, pecans or peanuts
1 pinch of salt
Optional: 1/2 tsp vanilla extract
Optional: ground cinnamon to taste
Optional: maple syrup or honey to taste
Instructions
Method for nut butter:
1. Preheat your oven to 180c. Place baking paper on a baking tray and cover with your nut or nuts of choice. Let them roast for about 10 minutes, they should be golden in colour, if they go too dark they will start to burn and taste bitter so keep an eye on them.
2. Set aside and let them cool completely. Then add them to a food processor or blender and blend until they are a creamy consistency. This might take some patience, at first it might look too dry but keep scarping the mixture off the sides and blending again and again till the start to look like a but butter you see in the shops. When it's reached this consistency, you can add a pinch of salt and some additional flavour if you like such as cocoa, vanilla, cinnamon etc
Method for the porridge
1. Add 30g of your oats and the water to a saucepan and leave to soak for at least 20 minutes.
2. After 20 minutes, add your milk to the pan, half you banana sliced as thinly as possible and cook on a medium heat for 5 – 10 minutes, the porridge shouldn't boil, if it begins to bubble reduce the heat slightly, slow and steady cooking will make your porridge creamy and delicious and your banana will gently dissolve into the porridge mixture.
3. When your porridge is cooked to perfection serve in a bowl and serve with the blueberry compote, the rest of the banana and some flesh blueberries.
To serve sprinkle a generous table spoon of mixed seeds or maybe some crushed nut and stir through as much nut butter as you like. Add the remaining nut butter to a glass jar and it will last to 4 – 6 week in your cupboard.