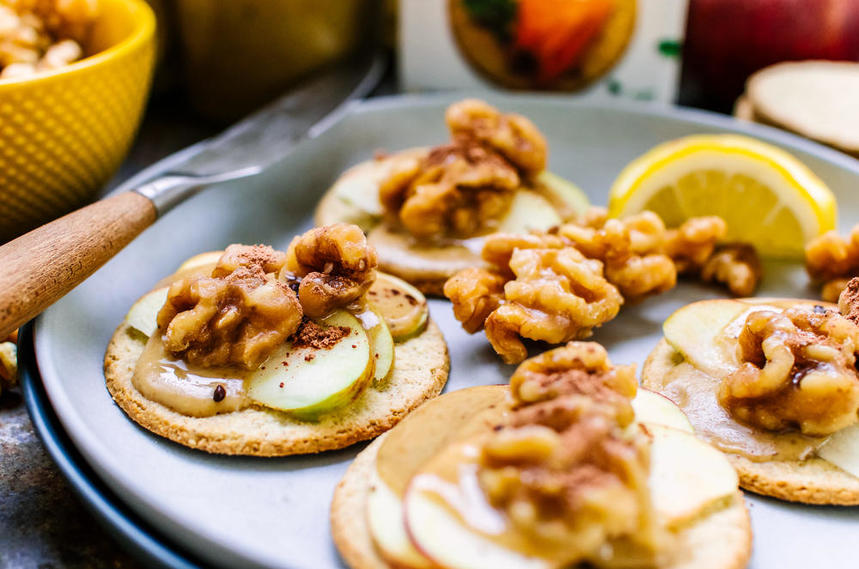 Walnut Butter with Apple, Maple Walnuts and Cacao Powder Topping
Overview
Make your own walnut butter to create a perfect flavour combination to enjoy with Nairn's Fine Milled Oatcakes.  Slices of crispy apple, a drizzle of walnut butter, sweet maple walnuts and a dusting of cacao powder.
Recipe by Healthy Twists:
https://healthy-twists.com/
Ingredients
For the walnut butter
300g walnuts
For the maple walnuts
40g walnuts
2 tbsp. maple syrup
To serve
1 apple sliced
Juice of 1/4 lemon
1 tbsp cacao powder
Instructions
To make your own walnut butter
Pre-heat the oven to 160°C. Add the walnuts to a baking sheet and place on the middle shelf of the oven for 8 minutes.
Remove from the oven and allow the walnuts to cool completely.
Once the walnuts have completely cooled add them to a food processor and blend for 15 minutes until they become a creamy nut butter.
Transfer the nut butter to a jar. Store in a cool dark place and eat within 4 weeks.
To make the maple walnuts
Pour the maple syrup into a small frying pan and gently heat until bubbles start to appear.
Add the walnuts and continue to cook until they are completely coated and become sticky.
Transfer the maple walnuts to a bowl. Slice the apple into segments and place on a plate.
Squeeze over a little lemon juice to prevent them from browning.
To serve, top your Nairn's Fine Milled oatcake with 3 slices of apple, a teaspoon of walnut butter, a couple of maple walnuts and a dusting of cacao powder.